by Jon Rappoport
2003, Truth Seeker Books, 392 pages
Review by Brian R. Wright (originally posted March 2007)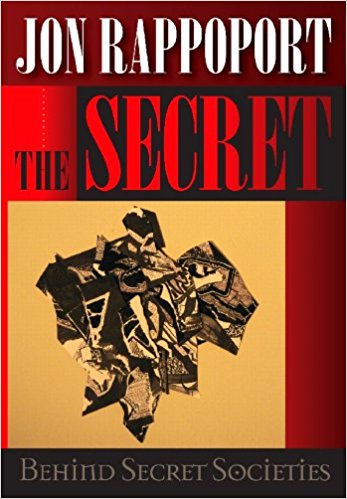 BW: Reposting review 8/30/2017, on the eve of taking in Mr. Rappoport's 'Matrix' series (three volumes available via his nomorefakenews site: The Matrix Revealed, Exiting the Matrix, and Life outside the Matrix.) Halfway thru the first volume, and I assure you it's worth every penny, talk about positive life transformation! This book was my entry roughly 10 years ago to "Rappaportianism;" my own breakthru has  been finding its own way since then, evidenced in my works via Global Spring, and now coming to a full boil thanks to the Matrix compendia. The Secret behind Secret Societies makes a solid foundation for anyone seeking a way out via expanded wholly independent and individual creative consciousness. Looks like it's run out of print; I'm personally taking an action item to chat with Jon and find out how we can make his seminal work widely available once again, at a reasonable price.
This is a 'different' book even for me, or perhaps especially for me, as I'm at least a common-sense advocate of Aristotelian-Rand-ian rationality.  The author's main proposition is: Two artistic visions have fought with each other about the course of humanity:
One is the formula of the secret society which uses symbols and ritual to control and dominate others and claims exclusive knowledge.
The other is the "Tradition of the Imagination," which holds each of us possesses immense creative power to achieve our own fascinating artistic vision of life in voluntary community with others.
In this Tradition of Imagination lies our future if we are to have a future, and we shall overcome the secret-society conspiracy of power by outcreating it. Continue reading →