… why receiving any 'covid' 'vaccine' injection is "catastrophically irrational"
By Brian R. Wright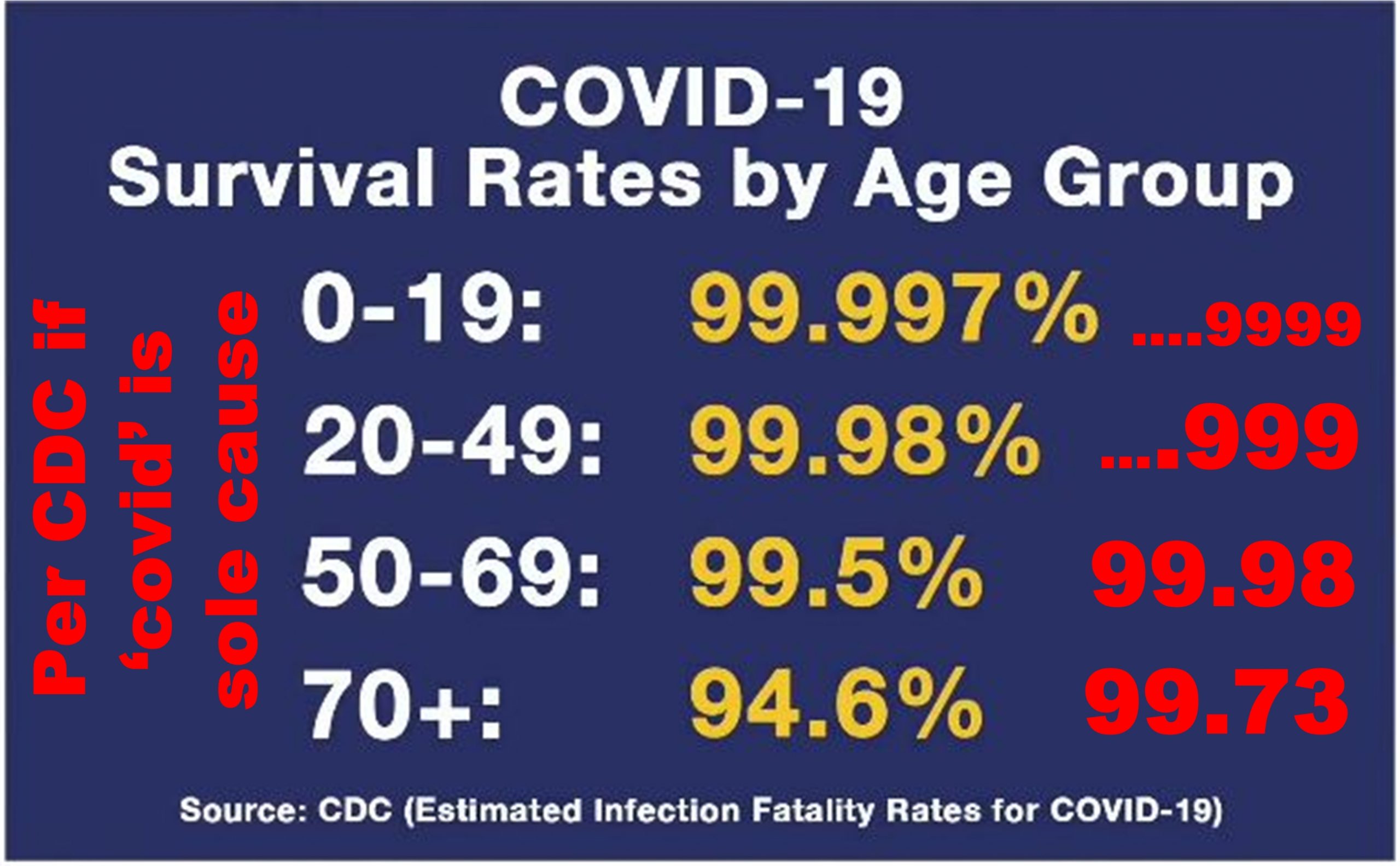 Note: Catastrophically irrational is actually a clinical term in the context of diagnosing and treating the collective-brain syndrome (CBS) social disease. It only means that the result of one's action will be unnecessarily potentially catastrophic in contrast to other clear choices based on reason and logic. [CBS Level 1, Class 1.]
The chart figure top-right shows the CDC's data for survival by age group of 'covid' cases defined by a positive result on the RT-PCR test (admitted by CDC to be unreliable). These nine points show no reason exists to take the 'covid' injection:
It has NOT been approved by the FDA only okayed for experimental-emergency use. No company or government entity is allowed to refer to this vax as "FDA-approved." You are officially part of an experiment.
Your chances of full recovery from 'covid' are in aggregate ~99.76% [and that is without application of any of the known and banned cures (items 7 and 8).]
The vaccine makers do not claim that the 'vaccine' will prevent 'covid,' only possibly provide relief from "mild symptoms."
VAERS is reporting uncommonly large numbers of deaths and injuries (after just three months, more than 1524 deaths and 31.079 total adverse events, >5000 serious injuries). [A Harvard Medical School study found that less than 1 in 100 vaccine adverse events, in aggregate, was ever reported.]
If you are injured, say w/ uncontrollable violent spasms 24/7 (ref. this litany of cases: http://bit.ly/3tblrkD_Reactions_to_Covid_Vaxxes), there is no known treatment.
You are federally prohibited from suing the manufacturer for damages.
Drugs—like hydroxychloroquine, ivermectin, budesonide, niacin—exist that kill viruses, esp 'covid.' The med establishment has known this for 40 years, and quashed and gone out of its way to prohibit their use. If the truth is that antimicrobial drugs kill viruses, then vaccines are not necessary—in fact an intolerable risk. That's a $69 billion industry that's unconscionably caused several times that amount of human suffering.
[http://ly/3r1nVA2_Highwire_Interview_Lee_Merritt and http://bit.ly/39vujtx_Dr_Lee_Merritt_on_Virus_Killing].
Nutritional regimens also prevent and cure viruses, particularly the 'covid' virus. These are also quashed by the med establishment, government agencies ban sites that advocate them, and mainstream media and Big Tech cancel positive discussion. I've adopted the David Brownstein preventive protocol, which the FDA forced him to take down from his site: https://www.drbrownstein.com/
Alternatives to 'vaccines' are censored and taken down from public display via the standard social media, as well as the mainstream media. Any word of alternatives to the 'vaccines' is strictly suppressed.