Prof. Tony Hall and I discuss "Inauguration of the Trump Era"
By Dr. Kevin Barrett [Original column here]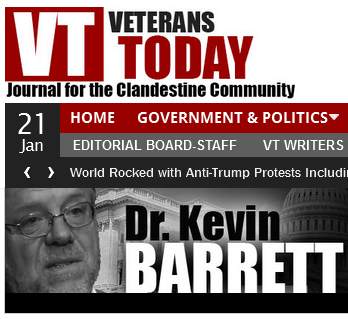 Watch it here, and click HERE for story links.
… by Kevin Barrett, Veterans Today Editor
Paul Craig Roberts, ex-pillar of the Establishment turned furious dissident, thinks newly inaugurated President Trump, like  JFK, poses an "actionable threat" to the powers-that-be: "If (Trump) is assassinated, we need to take up our weapons, burn Langley to the ground and kill every one of them."
Richard Cohen of the Washington Post agrees that "Trump's presidency is doomed." But not by CIA assassination; he thinks Trump will follow in the footsteps of Lyndon B. Johnson, a big, blustering megalomaniacal narcissistic psychopath  whose character flaws confirmed Americans' impression that he was "illegitimate."
So who is right? Is Trump a JFK or an LBJ?
First let's consider the case that Trump is the second coming of JFK. Roberts casts Trump's inaugural address as:
A declaration of war against the entirety of the American Ruling Establishment.  All of it. Trump made it abundantly clear that Americans' enemies are right here at home:  globalists, neoconservatives and other unilateralists accustomed to imposing the US on the world and involving us in endless and expensive wars, politicians who serve the Ruling Establishment rather than the American people, indeed, the entire canopy of private interests that have run America into the ground while getting rich in the process.
At the rhetorical level, Trump's speech did sound like he was declaring a JFK-style war against the special interests. But will Trump follow JFK's footsteps and: Continue reading →