Speed bump on the road to freedom from food addiction
By Brian R. Wright
Lo and behold, out in my part-time job as a medtech/driver, after, count 'em, SIX full days of abiding by the one meal per day (OMAD) prescription by a guy named WIL (What I've Learned): http://bit.ly/2rNkUVY_Fasting_OMAD_WIL.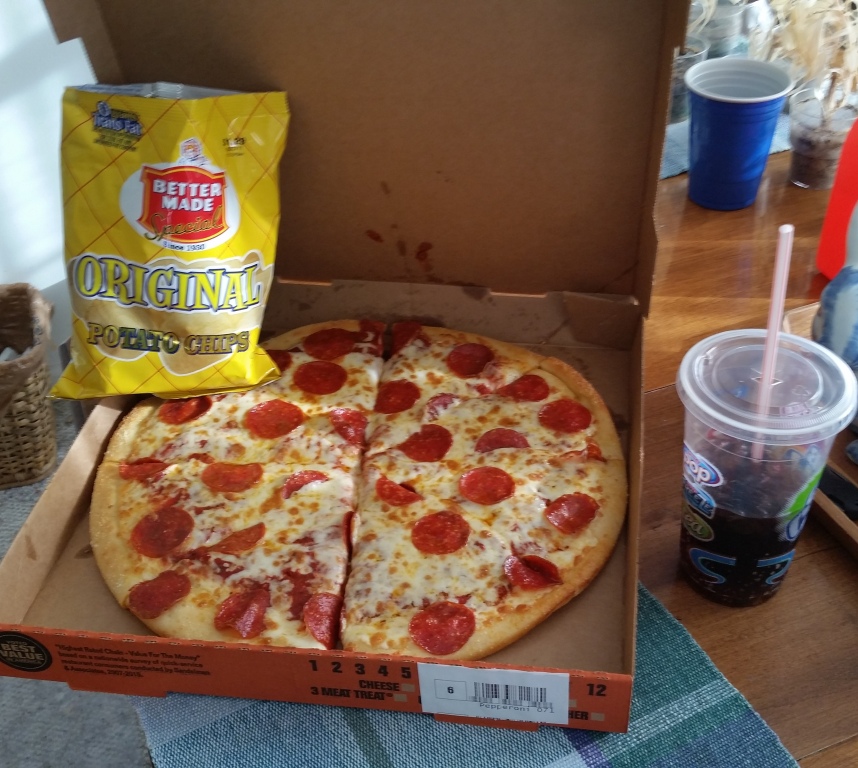 But I made the mistake of buying a large—standard size today is 22 oz, remember how soft drinks all used to be 12 oz?—Pepsi vanilla-cherry carb-onated, caffeinated cola to pick me up for the leg home. Which must have helped to launch a sudden craving-based notion that I would stop and buy a Hot 'n' Ready pepperoni pizza from Little Caesars, some potato chips, then go home and eat until stuffage.
Binge junk food supper.
Actually, this is the first time I've stopped for a ready made pizza, and I was only expecting to get maybe three pieces for like $6. So I was kind of astonished that for only $5 they give me a grownup-sized eight pieces, shown above right with accouterments. Think about that

for a minute: A six-inch turkey sub from Subway, which costs about the same, has roughly the same number of calories as a single piece of the Hot 'n' Ready above (~300). So in  calories per dollar, the majorly junk option is 800% more economical for the average consumer. Continue reading →