The politics and ethics of aerial bombardment
by Beau Grosscup
Review by Brian Wright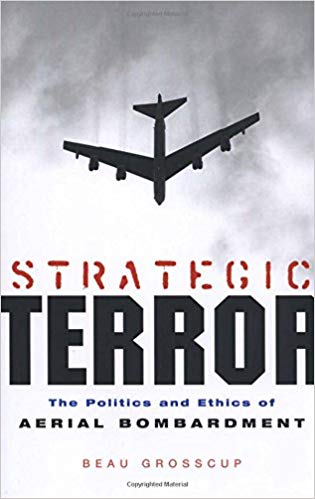 Originally posted in July 2012.
As many Americans, I've tended until recently to put out of my mind the actual effects of aerial bombardment on, you know, people, especially when the bombs are dropped by the American military or its allies over there. It's just too easy to attend to other matters, to focus on our brave boys doing all the work, flying the planes, risking being shot down, and so on. How many times have the media shown the aftermath, on the ground, of an aerial bombing?
Once I became ready to face the harsh reality, it took a microsecond to grasp that being bombed from aircraft, in the city or the country, is probably the most horrific holy hell any living being can go through. Your screaming children writhing from shards of glass, people crushed or buried alive by falling concrete and steel, appendages torn off in an instant, then with the incendiaries like napalm—esp. napalm-B[1] coming along in the Vietnam Warcrime era—people's lives ending in a slow, excruciating fireball of goo. [Speaking of Vietnam and antipersonnel weapons, millions of the ingeniously sadistic CBU (cluster bomb unit) 24s were dropped from US aircraft (mostly via B-52s and B-57s from undetectable altitudes).[2][3]
Background
Professor Grosscup starts by giving us the early history of aerial bombing, at the point where the flying technology and bombardiering technology were coming together… essentially the WW1 era. The author notes four major theoreticians, whom he calls the Prophets: Giulio Drouhet (Italy), Hugh Trenchard and Sir Basil Liddell Hart (England), and William 'Billy' Mitchell (United States). As every other political figure or military mind, the Prophets were horrified by World War I, the so-called Great War; they saw the millions of men killed in trenches as a feminine, defensive war, where nothing was glorified and offensive attack was suicidal. Strategic bombing became the savior of the affirmative role of manly martial prowess in stoking the Western patriarchies. Continue reading →