High-level fictional, US national politics intrigue
based on the book by Allen Drury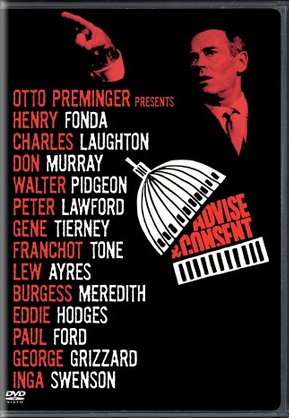 This movie, though a worthy dramatic statement, will hit you mainly on levels of culture shock. It's about the advise and consent of the US Senate to the appointment of a Secretary of State. The candidate is played by Henry Fonda, and despite the movie jacket suggesting his pivotal role, the actual candidate in the story is truly a secondary or tertiary character.
What I'm suggesting at the cultural level is how politics in Washington DC has changed between the early 1960s and the present day. Most striking to me is the relative power US senators carry between then and now. And I can express that difference in a single opening sequence of scenes: the majority leader of the Senate takes a taxi (hailed by the doorman) from his apartment complex to get to his office near the Capitol… and then rides to the chambers on what look like old Cushman electric golf carts.
They may still have some sort of shuttle carts, but I bet they sure don't look like something a coolie would haul around town. Continue reading →