"Day" to the 2004 version's "Night"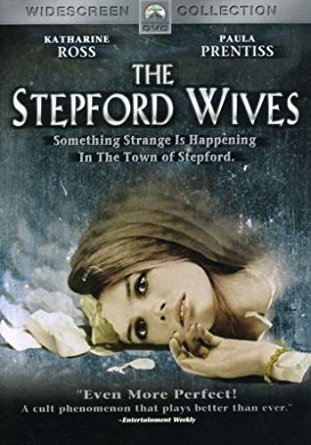 Directed by Bryan Forbes

Selected Cast
Katharine Ross … Joanna Eberhart
Paula Prentiss … Bobbie Markowe
Tina Louise  … Charmaine Wimperis
Patrick O'Neal … Dale Coba
Mary Stuart Masterson … Kim Eberhart

Joanna faces a dilemma.  On the one hand she can go along with her husband—who's already bought the new house—and kids, leave their apartment in the noise of New York City, and take up residence in the bucolic community of Stepford, Connecticut.  Or she can say no.
This might have been the time to say no.
Well, she decides to go along to get along, though not particularly happily (it's clear Walter isn't getting his desired water supply). 
In first scene of The Stepford Wives, at their new digs a statuesque doll-like neighbor lady delivers a casserole to them.  Then with a perfect smile and after some unblinking smalltalk, the neighbor lady turns and strolls back as if she were part of a wedding procession. Continue reading →