… and Writes from Jackson Prison, Michigan
Brian R. Wright
Some will remember I wrote up the situation with this (virtually and incredibly unknown) Michigan and American freedom warrior back in December 2018. His fortunes did not improve since then. It appears in a completely arbitrary miscarriage of justice by Bay County and state officials, Ted was railroaded for profit by means of a state undercover fraud-sting—using 40 'police officers' and civil asset forfeiture (CAF) to clean out his wealth and home—on his legitimate medical marijuana business, and now resides in Jackson Prison, which barring successful appeal, is where he'll be until May 2020.
Please consider writing to him and helping him out.
[I've finished the my Ted brochure with most of the latest updates, and you can find it here: http://brianRwright.com/Visner.pdf.] I did fire off a letter around Easter, then received a letter back. Here's my reply to what he sent back: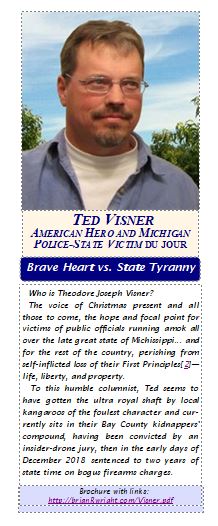 Novi, MI 48375
May 3, 2019
[my inside address on the letter is incorrect: March 22, 2019]
Honorable Theodore Visner
MDOC #526348
c/o Parnall Corrections Facility
1780 East Parnall Road
Jackson, MI 49201
Ted,
Yes, I received your letter and I acknowledge everything you're saying. I'm rather overwhelmed, myself, these days with cause-oriented work, especially for those who have been so hammered by the system. So sorry I can't do that much for you. I did try to reach a few of the names you gave me.
I did speak with <friend, California>, but she was with her son and said she would call next day. But didn't. Your friends in Washington, one number was not taking messages and I did leave a message with the number associated with <friend in Washington>… got no call back. I thought the best path you have right now is with that "People vs. Hency" case… and I called <contact in Michigan>, left a message, but again, nothing. [Kept trying, and did contact the friend in Michigan, 5/6/19.] Continue reading →