Holding on to family values ____ 7.5/10
Review by Brian Wright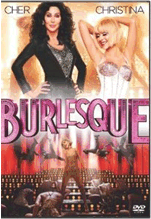 Ali Rose: Jack, why did you leave Kentucky?
Jack: Well, why did you leave Iowa?
Ali Rose: Because I looked around and realized there wasn't one person whose life I wanted.
Jack: Exactly.
Right, family values. Song and dance and the suggestion and celebration of sex, which is what, after all, does make families and all those family values that make the world go 'round. In the early scenes, Ali (Christina Aguilera), coming from Iowa to the bright lights of LA, asks Tess (Cher), proprietor of the Lounge, whether the establishment is a 'strip club.' Tess does a double-take, exclaiming that burlesque is to strip clubs as a carriage is to the bacteria on the underside of a snake crawling in the ruts of the carriage's wheels. It puts me back into the memory banks: I suppose if you're younger than 50 you may not even know what burlesque is…
Written by Steve Antin
Directed by Steve Antin
Cher … Tess
Christina Aguilera … Ali
Eric Dane … Marcus
Cam Gigandet … Jack
Julianne Hough … Georgia
Alan Cumming … Alexis
Peter Gallagher … Vince
Kristen Bell … Nikki
Stanley Tucci … Sean
I grew up in a middle class suburb near Kansas City, and when I was a teenager in the 1960s I heard of a couple of burlesque houses in the big city, where adult men would go to watch young-adult women do striptease in style. Never actually attending the Burly-Q—and the subject not being one I felt comfortable discussing with my dad—I just assumed that my teen friends told me the honest truth, namely that the girls would do song and dance while discarding clothing down to the sexy underthings that concealed those great and wonderful mysteries of life. Back in those days there weren't any strip clubs or topless bars per se, at least not any broadcast for the unwashed masses. And, right, burlesque was always associated with a musical entertainment value.
It's that classical entertainment value that classically oriented Tess is trying to maintain and nourish at her small bump-and-grind establishment with a dwindling relatively cultured clientele. She and her half-owner ex-husband Vince (Peter Gallagher) are not really paying the bills; a rich loyal client, land developer Marcus (Eric Dane) constantly pressures the couple to sell… which would mean the end of the establishment, because Marcus wants to tear it down for a strip mall or something. He's a friendly guy, and his terms are generous, but Tess is a true believer in the magic of the art form. At one time, she was the queen of the stage. [Early on, we do get a fine number (Golden Globe winner of best song) rendered by the incomparable Cher, reminding us of her own musical magic.]
Enter Ali. The movie starts with Ali deciding she's had it with waiting table in Iowa for the smallminded business owner who thinks he owns her. You're thinking, girl looks like Christina Aguilera, waits tables, shows some singing talent, like yeah right, there really is a Santa Claus and an Easter Bunny. That someone with her attributes would be hanging around a small town in Iowa for more than a nanosecond strains credulity for all but the most naive among us. Though I must say Christina's way of turning a phrase suggests she may, indeed, feel right at home back there in the sticks with the likes of the great acting talent who gave us, say, Jethro and Ellie Mae Clampett (of the Beverly Hillbillies).
That's really less of a putdown than an observation: Christina will probably be the first to admit she's not on the road to a Meryl Streep caliber acting career; however, she does put the brightest of lights in the firmament with her voice and her moves. One may wisely view the movie Burlesque as merely an elaborate life support system for the display of Christina Aguilera's magnificent singing and dancing. Fortunately, like a porn movie that doesn't concern itself too much with foreplay, Burlesque gets right down to business early and often with Christina's mellifluous pipes and shapely gams. Wow, she's a knockout. What a wonderful vehicle for a wonderful entertainer, someone who I can honestly state I had never once watched perform.
Yes, a plot exists. For starters: Ali walks in to the Lounge looking for work, promptly does a meet cute with the bartender Jack (Cam Gigandet), whom she thinks is gay, figures this is her kind of place, and more or less forces herself into the workforce of beauties who do their acts in synch with canned music. Ali's proposed innovation is for the girls to actually sing their own music, but none of them is really a singer. So Ali shows them on the stage, and everyone is hooked. Ali makes an enemy or two, she teeters between falling for Marcus or Jack—which one will prove to be the right guy for her?—, and through it all she's becoming a hero to Tess and Tess's entourage who true-believe in burlesque as it was meant to be.
So the film doesn't get an A for writing or dialog. It's a dance movie and that's the way it has to be received… and reviewed in my humble opinion. Both Christina and Cher, along with songwriter Diane Warren, received nods on the various awards committees—several nominations and a couple of wins. The number sung by Cher at the beginning of the film, "You Haven't Seen the Last of Me," was the Golden Globe winner.
Tess: They'll come to hear HER sing.
Speaking of Ali (Christina). The movie has high entertainment value and you'll especially want to stay in your seats through the final scenes and credits. Cher is still a star, and Burlesque may be her swan song in that category. From her public statements, one is overwhelmed by Cher's distaste for growing older. She doesn't want anything to do with all that, and who can blame her. But that speaks volumes about a lot of celebrities and people whom the general public have idolized; how does one avoid falling into the addiction to
fame and praise? A handful have moved through that phase and come into themselves spiritually; most don't. In any case on their own terms, kudos to the dying giants like Cher as well as the rising youth like Christina.
This post has been read 5346 times!