Bronx neighborhood eccentric charmer ___ 8/10
Review by Brian Wright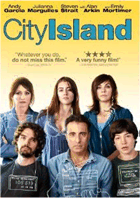 Molly: The problem is I've told this secret about a million times. I've auditioned with it in fact. It's your turn Vincent, I'm stuck.
Vincent: I don't know is it possible that I don't have one [a secret]?
Molly: No, that would make you far too normal to want to be an actor.
Screenplay Raymond De Felitta
Directed by Raymond De Felitta
Andy Garcia … Vince Rizzo
Julianna Margulies … Joyce Rizzo
Steven Strait … Tony
Emily Mortimer … Molly
Ezra Miller … Vince Jr.
Dominik García-Lorido … Vivian Rizzo
Alan Arkin … Michael Malakov
City Island, aside from its unique location and local color, is really a comic-drama about family life in which the common quality of the characters is that they each have a secret—or several secrets, some of them as small as 'smoking.' I won't give them all away, but we learn from the gitgo that the father of the clan, Vincent Rizzo (Andy Garcia), is initially very anxious that his wife Joyce (Julianna Margulies) will find out his secret desire is to be an actor. Further, he's spending several nights a month at a drama class off the Island, saying he's going out 'to play poker;' Joyce thinks he must be having an affair, and their relationship is floundering.
To make things more precarious, one day when Vince is making the rounds as a 'corrections officer' at the prison he works for, he learns a new inmate Tony Gardello (Stephen Strait) is actually his son from a relationship before he married Joyce. Back in the day, when the young, immature Vince learned Tony's mother was having a baby, he split and never looked back. So Vince is looking at the young man—who is doing time for auto theft and some other crimes, but nothing menacing, and eligible for parole if he stays with 'family'—with anxiety and affection both. Vince winds up interceding to bring Tony home to Vince's place on City Island—where if you're born on the Island you're called a clam digger and if you come to the Island after birth you're a mussel sucker—ostensibly to help put in a bathroom in a guest house (for the rather elegant, old main house that Vince was born in).
Naturally, this unannounced guest—Tony is only going to be staying for a month, which will work off his parole, otherwise it's three more years in the can—wreaks havoc with Joyce, i.e. with whatever marital peace they've established… except the kid is kind of hot, which rekindles ideas of passion that has been missing lately in her marriage to Vince. You can see where that storyline may be headed…
To top things off, the Rizzo's daughter Vivian (Dominik García-Lorido) is coming home for a week, presumably taking time off from college. Well, there's a secret in Vivian's life as well. And let's not forget the young brainiac Rizzo boy, Vince, Jr. (Ezra Miller); he's a straight-A student who hardly ever attends classes, and has a fondness for fat chicks. Are the Rizzos living secrets or are they living lies? Probably the former, as the movie mostly stays balanced toward the light side.
Into the volatile mixture arrives Tony, and you can see his anguish from the first meal… seeing all the fighting and confrontation and bizarre adolescent rants from junior, Tony wonders what he's gotten into. Jail certainly would be simpler, and quieter.
Finally, the key plot relationship materializes between Vince and a young fellow acting student named Molly (Emily Mortimer), where the exercise du jour, assigned by the always entertaining Alan Arkin (as their acting teacher Michael Malakov), is for each student to write up a confession of one of his/her deepest secrets. [Hence, you can see the connection between all the Rizzo secrets and this unifying idea of el secret supremo.] Malakov has the students pair off to help prepare each other for the confession to be performed in front of the class. So Molly and Vince share secrets, he reluctantly opens with her about his, but she insists on writing hers down on a piece of paper… only to read when she gives him the okay.
So that's the setup, and I have to give the writer/director de Felitta credit for proceeding at a smooth and purposeful pace. No rushing, yet no dawdling either. The rhythm of the movie complements giving the viewer a sense of place with City Island and with the surrounding New York culture. I'd love to spend a quiet afternoon some day visiting the Island, enjoying a unique sense of people on common ground, which has been passed down for centuries. It's worth looking into, here's the Chamber of Commerce site for the community. Hard to imagine it was initially settled in 1685, which for Americans is like the beginning of time.
Comments on the acting: Andy Garcia is stellar. Everything about his performance is dead solid perfect, from the accent to the subconscious behavior patterns. He creates a lovable, believable character. The humor and the angst are interwoven so skillfully you only become aware of the two threads through explicit analysis. To give you an example, he's driving to work in his vintage convertible boulevard rider—something like a 1970 big Mercury—with a cup of coffee in one hand, cigarette dangling from his mouth, and making a frantic call on his cell (I believe this is where he's talking with Vivian, his daughter, trying to juggle his initial pickup with her so he he can still make his acting class). Anyway, he worries about being a good father, and his multitasking has comical results. We can all identify with that situation. It's a scream, while at the same time anxious.
All the other actors perform credibly and competently. Yes, I have to give special snaps to Emily Mortimer as Molly. She's a complex character whose secret is perhaps one of the more serious, and correspondingly she conveys a neurotic sensibility from the gitgo, even at one point volunteering to Vince that like most women she's 'emotionally incoherent.' Hmmm. Definitely a vital piece of the puzzle, and one that leads Vince to 'do the right thing.' She shows a wonderful range here in her disturbance, but not so much to detract from the Rizzo resolution. In fact, the Molly character, by inserting a more true-to-life trouble, balances the story.
Another unique quality of City Island is its portrayal of acting within the acting. In an early scene, the teach Malakov chides his students to quit pausing for everything. "Let's declare a moratorium on pausing." He explains that no one paused to say their names, for instance, until 50 years ago a young actor named Marlon Brando started doing it. Funny. Then another scene between Molly and Vince makes the point that acting is a perfect career for people who would otherwise be complete f***ups.
Another angle of the movie is its take on obesity, especially extreme obesity in women; I see a subculture I did not know exists, and it certainly tempers the judgmentalism that often attends my reactions toward the 'roomy.' Is it overdone? Not really. Is the movie in general predictable or formulaic? Not really. As I mention with the Molly character, de Felitta has deftly composed a story that is at root common and universal, yet he populates it with persons and behaviors as unique as City Island itself. Next time I watch the film, I'm going to particularly attend to the work of Andy Garcia.

Come to think of it, it's brilliant the way the movie ends by concretely validating both the character of Vince Rizzo and the real world profession of acting itself. City Island stands to become a classic.
This post has been read 2098 times!