A Great Soul returns to the Great Spirit
by Brian Wright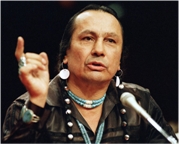 They say that when a true scholar or a person who has led a particularly rich and robust life dies, "another library closes." And that is certainly a poignant observation for the counter-culture American Indian leader, Russell Means… a noble soul-warrior I was privileged to know and befriend. The 'library' in this case is full of volumes of sentiment and inspiration of "a People"—not just the Lakotah Sioux nation that bore him, but the world community that Russell gave courage to. Courage to see the truth and courage to fight, and overcome, the Western Patriarchy that aims to crush the life blood from us all.
My only regret is Russell did not live to see the people's day of triumph, which is surely at hand. I had heard he was well, in a Christmas card sent from him and his wife, Pearl, in 2011, that his cancer had gone away. So today's news via email, from Jon Addiss of Lansing, caught me by surprise. Damn! Double Dog Damn! Not too long ago, I caught a 90-minute interview with Russell, under auspices of Alex Jones, that so impressed me I tried in my own small way to turn it viral. In that column I exclaim that Mr. Means is America's Dalai Lama.
Rereading that column now, I do not have much to add to its appreciation of one of the truest voices America has heard since the Founding, except that he and I shared a true 'blood-brother' connection. Our actual time together was brief, but as I was just explaining to my Rose:
"Wow, Hanta Yo (Lakotah Sioux for 'clear the way'), talk about the power of coincidence, that's exactly where I've been centered in the past few days. Could Russell be the Great Spirit who cleared the way for me? For my own spiritual evolution? He certainly has had a hand in it. He's cleared the way for so many others as well. Still, I did know him, however briefly, in that election season back in 87, 88, when I drove him around Michigan to do media interviews and visit Michigan State in my Honda CRX… and got the full measure of the man.
"Then at convention in Seattle, there in the hubbub, he remembered me; I think he thought I had more power, plus I know he felt he could trust me, he actually called me 'friend.' I could see that the people running his campaign lacked the hard edge of competence, and I certainly did not have the skills or wherewithal to be his campaign manager. His query of my interest in the job was genuine, but not emphatic.
"I believe what he saw in me above all was honesty. In a world of politics that as we know is 95% bullshit. If I had been better developed personally (spiritually) at that time, and had had more financial standing, who knows? If Russell Means had been the LP candidate in 1988, wouldn't that have been something?! One thing for sure, they wouldn't have kept him off the presidential debate stage."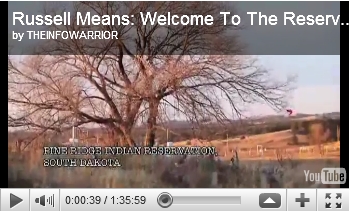 Let me refer the reader to my column on Russell of 2012 July 15, originally posted in February 2011. It truly says what needs to be said in a general way. All I did was add some reminiscences to surround what may turn out to be Russell's swan song, a 95-minute interview under auspices of Alex Jones entitled 'Welcome (all Americans) to the Reservation!' It presents Means' assessment of the political plight in this country: Tyrannical US government (USG) is increasingly treating everyone else just like it has been treating the American Indian from the gitgo. RM: "The US is the largest Indian reservation in the world." A veritable sermon from the mount.
Means—concluding Thoughts
The world media should have made a bigger deal out of Russell's passing, as they would had the Dalai Lama finally shed his mortal coil.  Having read the LA Times piece and the NY Times piece, I find them predictable Controller journalism, mostly accounting of Russell's borderline-hard-criminal early years and his role in the American Indian Movement, while minimizing his later central contributions to the modern freedom movement. Still the media surely loved Russell Means in his day and occasionally a Russellism breaks out, such as this one from the LA Times obit:
Means always considered himself a Libertarian and couldn't believe that anyone would want to call themselves either a Republican or a Democrat.
"It's just unconscionable that America has become so stupid," he said.
Amen, Brother! About two weeks ago I sent to him a copy of my latest book, The Truth Torpedo, asking that he read it and provide an endorsement. I knew he would agree with the essence of T3, because so much of what I write attacks the Controller Patriarchy and its lies/atrocities that he faced more than most of us. Sadly, now I'll never have the benefit of his support there.
I also pitched that, funds permitting, I would love to come out and visit him on the reservation, maybe sit down together and come up with a project where we might collaborate. His spiritual journey and statements in later years drew me to his truth. When just a few days ago, I had read he was forming a new country—more an old country in the form of a new one—I felt a surge of excitement. From the LA Times:
Means said he felt his most important accomplishment was the founding of the Republic of Lakotah and the "reestablishment of our freedom to be responsible" as a sovereign nation inside the borders of the United States. His efforts to have his proposed country recognized by the international community continued at the United Nations….
Russell proposed dismantling the pyramid of the Controller State, fully understanding nature and natural law, asserting the Constitution, decentralizing power, and showing how local control = freedom.
"You don't need government when you have one another."
RIP Russell Means, great one, you live on in the hearts of all liberty patriots, as we overcome the Old World of violence and domination, ushering in a world of peace, freedom, and abundance. Monuments and statues will come, but none will come close to the original flesh and blood, the true native-American original of Russell Charles Means.
This post has been read 1902 times!