Inimitable, retro romantic comic-drama ___ 8/10
Review by Brian Wright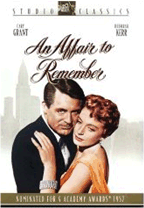 Terry McKay: Winter must be cold for those with no warm memories. And we've already missed the spring.
---
The famous quotation. But what is the context? Trying to reconstruct: it does take place in a dialog sequence between Terry McKay (Deborah Kerr) and Nick Ferrante (Cary Grant) aboard ship (a transoceanic cruise destined for New York)… and moves the plot along. By this time—following a significant side trip to an island where they visit Nick's grandmother (Cathleen Nesbitt)—they have fallen in love. I'm pretty sure Terry is expressing her melancholy that, in the words of the song, "it's sad to belong to someone else when the right one comes along."
Written by Mildred Cram
Screenplay by Donald Ogden Stewart [1]
Directed by Leo McCarey
Cary Grant … Nick Ferrante
Deborah Kerr … Terry McKay
Richard Denning … Kenneth Bradley
Neva Patterson … Lois Clark
Cathleen Nesbitt … Grandmother Janou
Robert Q. Lewis … Himself – Announcer
Charles Watts … Ned Hathaway
Fortunio Bonanova … Courbet
---
The two of them have met quite by accident on the ship. He's an "international playboy" who nonetheless has ambitions as an artist, a painter; the women he has affairs with tend to be jet-setters, and the one he's finally become engaged to, Lois Clark (Neva Patterson), is heiress to $millions. He has a sardonic, courteous, fatalistic attitude toward his upcoming marriage, but no love. By the same token, Terry, a former nightclub singer in Boston, is heading back to New York to be with her long-time boyfriend who idolizes her and wants to make her Mrs. Longtime Boyfriend who Idolizes Her. He's not what she had in mind.

Basically, An Affair to Remember is the simplest of movies. Most of the entertainment value and humor occur in the first 45 minutes, while the couple engages in the eternal dance of love. The banter is world-class class, essentially the quintessential Cary Grant; it's obvious the actors have a rhythm all their own. (You learn from the bonus features that the great majority of the repartee and boy-girl interaction are unscripted.) Yes, it's really good… it reminds you of your own special moments with a special someone, or a Cary Grant movie ca. 1957.
1957 Time Machine…
I have to admit, a large part of the appeal of this movie for me is to put my imagination back in the day—when I was an eight-year old Baby Boomer whose main concern was not getting beat up by a couple of greasers who had somehow been let into my WASP[2] grade school—and compare it to the mores of subsequent generations. Yes, the love story is solid, and, as I said, it's fun to watch Cary and Deborah cavorting in a gay and merry manner aboard the SS Big-Apple Bound. They're supposed to be beautiful people, and they are, natural aristocrats who still know the value of work. The sophistication and structure are refreshing in so graceless and chaotic an age as our own.
Frankly, I even enjoy the fact that in 1957, an attractive man and woman who are drawn to each other emotionally and intellectually, and who are not married (though both are in committed relationships elsewise), have about as much chance of doing the boh-de-oh-doh—or enjoying any other form of sexual hanky panky—as the Kansas City Athletics baseball team had to win the American League pennant that year. Good people did not have intercourse until marriage (and then only sparingly); the ultimate romantic moment was a kiss… closed mouth, moderate pressure. [Truthfully, I don't recall if they even had one of those kisses on the cruise. Certainly they did not have two.]
You can probably count on one hand the number of American couples with healthy sex lives in the 1950s. Then in subsequent generations several cycles of (over)reaction back and forth needed to occur—and a lot more knowledge—before some degree of mutual long-term satisfaction in that area could be realized. It amazes me to think that the 1950s were probably not even the nadir of American man-and-woman sensual enjoyment, especially when you consider that before 1950 men and women did not procreate—that was the job of the stork—and only monogamous, heterosexual hands-off mating occurred.
Sorry to go off on a tangent there. I don't know, you watch the scenes on the big boat as the two of them are learning who they are to each other, and to themselves, and the physical passion, while lying beneath the surface, has to be inferred. But that's okay, because the actors give us the evidence with subtlety—a touch here and a tender witticism there. Dialog carries a great deal of the feeling, and does a fine job. Good writing, and believable, because when you get right down to it, "it's still the same old story."
The writers, director, and actors definitely hit the love-alchemy jackpot with An Affair to Remember. (Like Rick and Ilsa in Casablanca.) When Nick and Terry arrive in New York Harbor—again their relationship becomes one made in heaven when Nick takes her home to 'Nana' on the Mediterranean island for a special afternoon—we fully believe they're soulmates. It certainly is an affair to remember, and one to keep alive. With much angst, they take leave of each other at the NY pier, for their current partners, knowing the two of them, because they are so deeply in love, will meet up in six months at the top of the Empire State Building.
Sleepless in Seattle Phase
I say Sleepless in Seattle because that 1993 movie is probably how most people these days remember the classic ATR. Indeed, it's what led me to view An Affair to Remember. I think it was perhaps 5-10 years ago the first time, then just a week or so ago. But what I mean by "phase" is this is the time when both Nick and Terry are in New York, sorting out their lives, figuring out how to disconnect from the ones who are not the right ones.
And of course the climactic scene which I won't go into, but which is referred to copiously in Sleepless. It's all good. And by no means do I agree with the women (and little girl) in Sleepless who assert universally that "men do not get this movie" (do not get ATR). Well, I'm here to tell you I think this man does… get it, that is. What's fascinating is the behavior of the Deborah Kerr character, the woman Terry, who has this problem that seems designed to keep her from the love of her life.
It isn't even a problem that she caused in any way. Yet because of it, she doesn't want to put the obligation on Nickie to have to deal with her situation. Okay, so perhaps that's what men don't get. I certainly don't understand—from my perspective as a 21st century dude—how a woman could take all that burden herself, deny herself because the wonderful man that she loves has a right to be free from feeling he has to sacrifice for her. This is true, I do not get that today. But I certainly know how it worked in the 1950s, as some variant of the morality of altruism. So I do get the context. And she's great, strong-charactered, our kind of woman for sure.
The writers throw in some humanizing qualities in both persons—Nickie's art world and Terry's role as music teacher for some annoying little children in a semi-churchly setting that exhibits one too many stereotypes for my taste. Advantage Nick. But you can't really hold this Altruist Malarkey World against so standup a girl as Terry McKay. Then the resolution, and, yes, it's stellar, as in my subtitle, suis generis—meaning without equal, or "there'll never be another one like you."
So what does make this rather schmaltzy and simple movie so great?
In a word, screen chemistry between two of the more magical figures in Hollywood. As suggested in Sleepless in Seattle, when they meet, when they remeet, it's, you know, magic! Personally, I enjoy Sleepless more than ATR, it's funnier, more romantic, musically enchanting, even containing more-memorable acting moments—I rave about the Meg Ryan scene where she comes downstairs in the middle of the night, listening to the Hanks

character on the radio show, without a word conveying the most sublime and pure affection. But ATR is a more powerful achievement, IMHO[3]: Grant and Kerr rise above the schmaltz of the writers and the schmaltz of the times. Really a Movie to Remember.
---
[1] Interesting to note that the screenplay writer was black listed as a Communist in 1950, went to England and was not allowed to return.
[2] White Anglo-Saxon Protestant
This post has been read 3198 times!