History of the Collective vendetta vs. the self
by Jon Rappoport (from Nomorefakenews.com)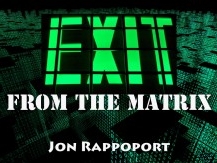 "What is finished is the idea that this great country is dedicated to the freedom and flourishing of every individual in it. It's the individual that's finished. It's the single, solitary human being that's finished. It's every single one of you out there that's finished. Because this is no longer a nation of independent individuals. It's a nation of some two hundred odd million transistorized, deodorized, whiter-than-white, steel-belted bodies, totally unnecessary as human beings and as replaceable as piston rods." — Howard Beale, in Paddy Chayefsky's 1976 film, Network
But that was only a movie. Who cares about that? You go into a theater, sit there in the dark for a couple of hours, walk out, and think about something else.
For several years now, I've been writing about the decline of the individual. The wipeout.
Every time I write an article on this subject, I receive suggestions. I should go back and re-read Marx. I need to understand the difference between "communal, communitarian, community, communist." I should research worker-owned businesses. What about trans-substantial transpersonal sub-brain algorithmic psychology? How about the pygmies? Ego? Superego? Id?
I appreciate these and other remarks, but I'm talking about the individual, about Self, beyond any construct, beyond citizenship, beyond membership, beyond sociology or anthropology or archeology.
The individual is enshrined in various political documents, but his rights don't originate there. Neither does courage nor imagination.
I've laid out the enormous psyop designed to submerge the individual in unconscious goo. This psyop depends on the repetition of words like: unity, love, caring, community, family. And phrases like "we're all in this together."
The individual is characterized as: lone, outsider, selfish,greedy, inhumane, petty. Turn him into an exile, excommunicated from the great body of humanity.
Here, in the usual prose, is a familiar formulation of the grand psyop: "We can no longer afford the luxury of thinking of ourselves as individuals. The stakes are too high. Finally, we must all come together and realize our presence on this planet is a shared experience. The decimation of our resources, through hatred and divisive behavior, the denial of love and community, the cold greed and excessive profit-making, the whole range of social and political injustices—all this can ultimately be laid at the door of the individual who refuses to join the rest of humanity…"
Is this manifesto valid? It's a deception, BECAUSE it's aimed at making the individual extinct.
And once that happens, the collective, managed by Globalist princes, will have a clear path to the control of Earth, at the expense of the rest of us. And the cruelties we now witness will pale in comparison to what is in store for us.
"When hopes and dreams are loose in the streets, it is well for the timid to lock doors, shutter windows and lie low until the wrath has passed. For there is often a monstrous incongruity between the hopes, however noble and tender, and the action which follows them. It is as if ivied maidens and garlanded youths were to herald the four horsemen of the apocalypse…The less justified a man is in claiming excellence for his own self, the more ready he is to claim all excellence for his nation, his religion, his race, or his holy cause…Collective unity is not the result of the brotherly love of the faithful for each other. The loyalty of the true believer [who surrenders Self] is to the whole — the church, party, nation — and not to his fellow true believer. True loyalty between individuals is possible only in a loose and relatively free society." — Eric Hoffer, The True Believer, 1951
Wait. Isn't that a bit harsh? Isn't that too "critical and negative?" Where is the cosmic share-and-care we need to spread like butter over the whole universe? I mean, Eric Hoffer was a wonderful writer, and he was a working man, a longshoreman for his whole life, so we should admire him, but today's prophets are wired directly into the Unity that will save us all automatically—like a toaster popping up with toast every time…right?
On some mid-west college campus, a wide-eyed kid of 19, full of hope and optimism, is studying political science. His professor is running down the catalog of stunning injustices that populate far-off regions of the planet.
The boy wants to help. His professor gives him the name of a humanitarian group that runs operations in Africa. The boy, in some sort of "personal crisis," drops out of school and signs on with the group.
Little does he know that the charity he is now working with in Africa has ties to USAID, which in turn is a solid CIA front. The real mission of the charity, unknown to most or all of its members, is gathering information that can be used as intelligence.
Under the banner of justice, help, hope, and unity of all peoples, the charity is providing actionable intell to CIA-backed "rebel forces" who are carrying out assassinations and bombings in advance of a political coup.
The coup will pave the way for new deals with multinational scum, organized as corporations, to enter the scene and plunder natural resources and labor at more formidable levels.
Five years later, the boy leaves the charity and returns to the US. He is confused, looking for another group in which he can submerge himself. He's hooked on groups…
The naïve have given up the ghost on their own independent existence. That is the key.
Think of some of the messages of recent pathetic presidents. Bush the Elder: "Kinder, gentler." Clinton: "I feel your pain." Bush 2: "No child left behind." Obama: "We're all in this together."
Judging by these presidents' murderous actions, it's clear they were selling unity and caring and togetherness as cover stories for oppressive business as usual.
The op? Make the individual extinct, present him as a useless and dangerous and outmoded construct. Then, whatever real unity that might exist between individuals will vanish, because the population will take on the shape of a coagulated mass melted down into a cosmic glob of androidal harmony.
Artists have warned about all this. Their so-called supporters say, "Oh yes, he was a wonderful writer. Misunderstood, of course, but brave in the face of utter rejection." The usual claptrap. Point is, these gushing advocates conveniently and easily forget what the artists actually wrote.
Here is another reminder from an Outsider who was glad to be outside. He was a hero to some. He was reviled by many.
"A bureau operates on opposite principles of inventing needs to justify its existence. Bureaucracy is wrong as a cancer, a turning away from the human evolutionary direction of infinite potentials and differentiation and independent spontaneous action to the complete parasitism of a virus…Bureaus die when the structure of the state collapse. They are as helpless and unfit for independent existence as a displaced tapeworm, or a virus that has killed the host."
"After a shooting spree, they always want to take the guns away from the people who didn't do it. I sure as hell wouldn't want to live in a society where the only people allowed guns are the police and the military."
"There is simply no room left for 'freedom from the tyranny of government' since city dwellers depend on it for food, power, water, transportation, protection, and welfare. Your right to live where you want, with companions of your choosing, under laws to which you agree, died in the eighteenth century with Captain Mission. Only a miracle or a disaster could restore it."
The author? William S. Burroughs. But not to worry, he was crazy. Of course he was. He didn't profess utter loyalty to the mass of humanity. He didn't prostrate himself before "the greater good." He didn't preach unity and togetherness.
He was an individual. Therefore, he is obsolete. A cherished memory of a time now wiped from the mind. Now we are all dancing and marching in the psyop.
Here's another psyop and cultural theme: the distortion of money and the free market.
The psyop goes this way: The making of $$ is a religious event comparable to the arrival of Jesus or the appearance of the Great Buddha. Indeed, isn't Christmas the season measured by consumer sales?
A life justified is a life of the bottom-line cash register, a poem to make Shakespeare turn pale with envy.
It doesn't matter what a product is. If it sells, it must be good. It must mean something profound.
Nail polish, a new plastic toy, a little robot that sings songs—they're Walt Whitman and Michangelo and Bach because they jumped off store shelves.
Bill Gates and Warren Buffet are geniuses because they and their companies amassed billions. It has to be so.
The team that put together Goofy Bird III, the summer blockbuster hit, are the Chaucers of our time. The box office proved it.
What product makes more money than any other? War. Therefore, Jesus wore a white leisure suit and played golf with generals and made deals for weapons systems.
"If a young man or woman today wants to express his true individuality and succeed with other like-minded individuals who have no fear of failure, the two businesses to go into are war and banking. My father told me that, and it's stood me in good stead all these years. It's the apotheosis of America…"
An artist named Paddy Chayefsky, in his film, Network, covered this waterfront pretty well:
"You are an old man who thinks in terms of nations and peoples. There are no nations. There are no peoples. There are no Russians. There are no Arabs. There are no third worlds. There is no West. There is only one holistic system of systems, one vast and immane, interwoven, interacting, multi-variate, multi-national dominion of dollars. Petro-dollars, electro-dollars, multi-dollars, reichmarks, rins, rubles, pounds, and shekels. It is the international system of currency which determines the totality of life on this planet. That is the natural order of things today. That is the atomic and sub-atomic and galactic

structure of things today! And you have meddled with the primal forces of nature, and You Will Atone!"
Hail to the collective, managed from the top. Ah, but as I said, Network was just a movie.
…

---
This post has been read 1803 times!