Works on many levels, 'decide for oneself' __ 7/10
Review by Brian Wright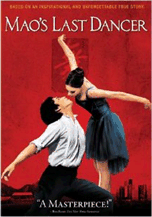 Summary: A drama based on the autobiography by Li Cunxin. At the age of 11, Li was plucked from a poor Chinese village by Madame Mao's cultural delegates and taken to Beijing to study ballet. In 1979, during a cultural exchange to Texas, he fell in love with an American woman. Two years later, he managed to defect and went on to perform as a principal dancer for the Houston Ballet and as a principal artist with the Australian Ballet.
Rather a surprise movie, a feel-good semidocumentary, like Secretariat. And I expected it to be critiqued accordingly from the majority of the citizen-reviewers on IMDb. Alas, unlike Secretariat, virtually every one of the 40-some reviews of Dancer were almost embarrassingly glowing. The only erudite review I found not climbing on the 'masterpiece' bandwagon was from a writer in Vancouver:
Directed by Bruce Beresford
Screenplay by Jan Sardi
Biography by Cunxin Li
Chi Cao … Li Cunxin (adult)
Bruce Greenwood … Ben Stevenson
Penne Hackforth-Jones … Cynthia Dodds
Kyle MacLachlan … Charles Foster
Amanda Schull … Elizabeth (Liz) Mackey
Suzie Steen … Betty Lou
Madeleine Eastoe … Lori
Aden Young … Dilworth
Wen Bin Huang … Li Cunxin (child)
Ji Feng Sun … Headmaster
Produced by Jane Scott and written by Jan Sardi, Mao's Last Dancer is an inspiring story of determination, courage, and love complete with excellent dance sequences choreographed by Graeme Murphy. Unfortunately however, under Beresford's direction, the film is filled with one-dimensional characters, over-simplified politics, and TV-style clichés. The differences between the brutes of Communist China and the freedom-loving Americans are drilled into us so often and with such heavy-handedness that we begin to question their authenticity, especially since none of America's social, economic, or cultural problems are even mentioned. Although Mao's Last Dancer has some genuinely moving moments, it is mostly a slick and superficial affair, lacking in a core of emotional truth. — Herman Schumann.
Probably harsher than I feel, but I must agree with Herr Schumann that, with a couple of exceptions, the characters do come off as unidimensional in a political context contrived like an average TV movie. [The main white exception is Bruce Greenwood playing the art director of the Houston dance company that brings the remarkable Li Cunxin to the states as a student for exhibition. Greenwood, who in his prime had the leading manly man looks, gives just enough of what I'll call the 'Flittiness of Gaydom'—combined with an authentic dance instruction capability—to carry the role convincingly… and sympathetically. After all, Stevenson is the major reason Li Cunxin becomes a household name (among those who follow ballet and dance culture in America and the West).]
Some other roles are better than passable, such as Kyle MacLachlan who plays Charles Foster, a key immigration attorney. But the lead role, that of Li Cunxin, is not particularly stellar with Chi Cao. Chi has all the right moves on the dance floor, and has the Western features that make him attractive to us, but lacks the gravitas that the real Li, in a dramatic recreation, ideally would have. Also girlfriend-then-wife, Liz (Amanda Schull) is lovely and has acting skills, but they are not set free by the the pedestrian plot and dialog of this film. [Actually, it's a little strong to refer to the plot as pedestrian; it's simply that it's constantly oppressed by the minutiae of Li's life in America. Director Beresford, IMHO[1], approaches his subject too literally.]
Still the movie and, presumably, the book is enjoyable simply on the level of journalism. As with Secretariat, in Dancer we have a principal character who is remarkable as a real sentient being in his own right. If a director were to try to create too much drama in the choices and actions of the humans surrounding the main character, that would detract from our attention to the main character's astounding qualities and achievements. So we can let the journalism dominate drama; the issue of pedestrian dialog, however, remains… for both films. To give an example, some time after Li's choice regarding defection, he's chatting with his new girlfriend:
"What is it that makes you want to stay?" she asks.
He replies: "In China I don't get to decide for myself."
I paraphrase from memory, but there is nothing in the conversation or statements inside Dancer of the grand universal scale that, say, inspires us like the majestic, passionate words of Ayn Rand or Victor Hugo. For me, that immediately takes the movie well out of the 9+ category. But two qualities remain that carry the day, making the film one to recommend: the dancing and the drawing of community-family life in China… especially as that hard, pristine life is affected by totalitarian government.
Yours truly is no dancer. My homeys tell me I look like Elaine Bettis (from The Seinfield Show), though I know they're just jealous. Music was an early part of my life, and my mom persisted in giving me piano lessons through fourth grade, until I basically quit in favor of playing outdoors. She didn't have a lot of leverage as the old man felt that music was a sissy thing to be doing, anyway. I suppose it's a good thing I never took up dance as a youngster—Dad would have had a heart attack.
Yet, with ballet I find myself often experiencing the same exaltation and chills of appreciation as I realize with beautiful music… especially when done superlatively. For example, Black Swan for me was compelling musically, albeit dark. Mao's Last Dancer has the same artistic theme of Black Swan: to reach the heights of artistic expression requires a depth of hard work and social drama that few souls can handle, even souls with the talent of Li Cunxin. The moviemakers did a fine job locating Chi Cao, because he is a superb dancer. And those peak dance scenes really make a difference.
Finally, the actors who form the Chinese part of the ensemble are worth the price of admission. Nothing pedestrian about the scenes in China nor the dialog, subtitled. It's really only when Li comes to America that the performances become one-dimensional, also the setting, as they shoot for Houston in the late 1970s and early 1980s… and fall short. Li's Chinese family and other persons in China—his parents, a young girl friend, and a special teacher—bring a sterling authenticity to the story. After all, we are dealing with the universal theme of freedom of the individual from the collective, and these performances adequately display what the reality is for the average person in the Great Collective.
Some other minor reservations exist, but they are balanced by the genuine human story of a remarkable artist. I can imagine the book of the same name, written by Li Cunxin, will be a total thrill to read, and I look forward to that experience. It won the Australian Book of the Year award in 2003, and has been made into a children's book. Movie gets my WWW award = well worth watching. Enjoy.

---
This post has been read 12624 times!