Big budget movie is an artistic gem _ 9/10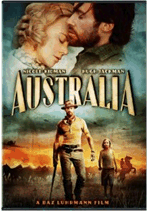 Nullah: Missus Boss, I sing you to me.
Lady Sarah Ashley: And I will hear you.
Magarri: If you've got no love in your heart, you've got nothing… No dreaming, no story, nothing.
First the conventional large-budget blockbuster, which was disappointing at the box office: It's fascinating, the effect of corporate marketing on a film, so much of the success of the effort depending on how the executives represent it. I remember the fuss the marketers made about the supposed epic love story between characters played by Hugh Jackman and Nicole Kidman—both major Hollywood stars, both born and raised in Australia, and both 10s on the physical attractiveness meter. First, the movie is fundamentally not a love story. Second, the true leading characters are an Aboriginal old man named King George (David Gulpilil) and a mixed-race pre-teen boy named Nullah (Brandon Walters).
Directed by Baz Luhrmann
Screenplay Stuart Beattie
Story Baz Luhrmann
Hugh Jackman … Drover
Nicole Kidman … Lady Sarah Ashley
Brandon Walters … Nullah
David Gulpilil … King George
David Wenham … Neil Fletcher
Bryan Brown … King Carney
David Ngoombujarra … Magarri
Australia is like Walkabout below, a Clash of Civilizations movie with 100 times the budget. Stealing the show is Brandon Walters, whose Nullah simply enchants you from the gitgo: through his singsong voice, often in narrative, and his heart-rending situation—he's grown up in both worlds, and is on the threshold of having to do a walkabout under direction of King George. But he begins to love his new white mother-figure from afar, Lady Sarah Ashley (Nicole Kidman), who isn't a typical sheila that the local land barons can run roughshod over.
The plot involves the need for Lady Ashley—who has come from England to take over Faraway Downs, a ranch she inherited—to drive 2,000 head of cattle to a shipping point on the northern coast where they will be used to feed Allied troops in their WWII campaigns against the Japanese. She enlists the aid of Drover (Hugh Jackman), a former ranch hand, who has established himself as the best horseman in the region… also a man who befriends Aborigines and counts among his best friends his 'mate,' Magarri. This sort of individuality is looked down upon by the man on the street, as well as Fletcher, the crooked neighbor who represents the consortium trying to take Faraway Downs away from Lady Ashley.
The pith of the movie is a cattle drive against all odds, across a section of Australia that is, at least cinematically breathtaking—though harsh. Because Fletcher prevents Ashley from getting a crew, she brings only friends and family to get the job done, including Nullah. Fletcher and his goons constantly sabotage the drive, but the good guys eventually escape intact… only to face crossing the Never-Never, an uncharted expanse of desert, which has never been accomplished by a white man. King George, though, who is following along, agrees to 'sing' them through.
The primary theme of this utterly FABULOUS and large movie—I have not touched on other key parts of the plot—is natural spiritual awareness vs. the 'civilized' technolo
gy of blind collective obedience to coercive authority. The secondary theme is man's inhumanity to man, particularly the Aussie whites attempting to 'assimilate' the Aborigines (basically by kidnapping and brainwashing children) into extinction. Jackman and Kidman do a wonderful job fitting their relationship into the broader epic. It is a fantastic and worthy effort: 9 out of 10.

---
This post has been read 1139 times!