Memorable film w/budding super-star actor __ 8/10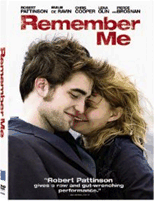 Tyler: Gandhi said that whatever you do in life will be insignificant. But it's very important that you do it. I tend to agree with the first part.
Aiden: I've had enough of this brooding introvert shit! I'm ready to set up an intervention.
Tyler: You do realize that interventions don't normally consist of binge drinking, right?
Screenplay by Will Fetters
Directed by Allen Coulter
Robert Pattinson … Tyler Hawkins
Caitlyn Rund … Alyssa Craig (11 yrs)
Emilie de Ravin … Ally Craig
Kevin P. McCarthy … Police Chief
Chris Cooper … Sgt. Neil Craig
Lena Olin … Diane Hirsch
Gregory Jbara … Les Hirsch
Ruby Jerins … Caroline Hawkins
Pierce Brosnan … Charles Hawkins
Tate Ellington … Aidan Hall
Talk about a movie that creeps up on you and then, without any sloppy sentimentality, leaves you deeply moved… That's the memorable effect of Remember Me. This is also a movie that is difficult to discuss without spoiling it for those who haven't seen it. So let me comment mainly on the characters and the emotional quality with respect to other movies.
First a couple of notes about plot context and setting: A young girl suffers a family tragedy in her life at the age of 11; we note she is the daughter of a New York policeman Neil Craig (Chris Cooper). The story moves ahead 10 years, where we find a young man, Tyler Hawkins (Robert Pattinson), showing up late to an annual funeral observation by his family. Tyler's rich Wall-Street-lawyer father (Pierce Brosnan) is none too pleased with Tyler… in general. Which we see in the dinner following the ceremony, attended by Tyler's grade-school-aged sister Caroline and his mother (Lena Olin). The father also appears to have little genuine care for Caroline.
Tyler dotes on his baby sister Caroline fiercely, and she him, but to virtually everyone else in his life he stays remote, even surly. It's unclear whether he actually has a job, though he attends classes at New York University (NYU) while not actually being enrolled as a student. We can tell from his conversations with Caroline and with his goofy, troublemaking roommate Aiden (Tate Ellington) that Tyler has a deep knowledge of art and literature… and a first-rate intellect. He's very kind of heart, too.
It takes a while to figure out exactly who's who and what's what. You're naturally wondering what the connection will be with those scenes 10 years ago in which tragedy befell the Craig family. Then the meet cute transpires between Tyler and the Craig daughter Ally (Emilie de Ravin), now grown up and also attending NYU. Though they hit it off immediately on an emotional level, Tyler's rebellious nature has led to some previous conflict with her father. Plus, he still needs to sort out the pain and anger from his family's tragedy, decide whether and how he's going to grow up.
Ally on the other hand has processed her tragedy more healthfully: she's outgoing and open. Her quirks seem to complement his—for example she prefers to eat her dessert first on the premise that if a catastrophic event occurs somewhere during the meal, she'll at least have had the satisfaction of enjoying her favorite part. The intelligence, kindness, and fundamental honesty of both the romantic partners makes this movie one apart. I'm reminded of (500) Days of Summer—starring Joseph Gordon-Levitt and Zooey Deschanel—which I reviewed here back in March of 2010. Remember Me is a serious romantic comedy… though I'm not sure comedy is the right word with all the tragedy hanging in the background.
I believe we truly have another new phenom brewing in the young acting world. Many of you will have seen Twilight, which I reviewed here a few weeks ago. This is one of the earlier appearances of the actor Robert Pattinson. I stated to a cowatcher that, despite the Twilight series being dim artistically, the young man who played the kinda-sorta vampire Edward Cullen had something special about him. A "presence" beyond the weird glassy-eye effects.
In Remember Me that presence, that je ne sais quoi, comes at you full force. Though I'm not old enough to have seen the Marlon Brando deal real time, I have seen some of those classic Brando films like Streetcar Named Desire and On the Waterfront. Not knowing what the 'real critics' —meaning reviewers who have studied film academically—are saying, I would assert that Pattinson is, if not the new Brando, then certainly a new Brando. Of course, everyone is an individual. What's in the young actor is a similar depth of presence, that attribute of very few real people who have something inside that 'you just can't take away from them.' Ref. Cool Hand Luke, Gandhi… anyone who stands truth to power.
Frankly, watching Pattinson's performance in this movie, I'm not only gratified that the youth of the world have a new cinematic icon in the offing—a man who conveys feeling yet stands against crass conformity and doesn't take a lot of crapola from anyone, especially The Man—I'm also inspired. It's the sort of emotion I have when I see Howard Roark (Gary Cooper) in The Fountainhead stand against (and defeat) collectivist mediocrities or even Dirty Harry (Clint Eastwood) telling the mayor to take his job and shove it. I'm hoping Pattinson is the real deal, because the world, especially the youth of the world, needs a genuine young-man hero in the worst way. [And I'm hoping the real world of celebrity, riches, and false needs do not corrupt or diminish the real man Robert Pattinson.]
So ride on, dude. Best wishes, and I'll stay tuned for the next gem; I do have to tell you my quota (one film) in the Twilight series has been reached. While we're discussing performances in Remember Me: Chris Cooper is always brilliant, and underappreciated Pierce Brosnan is perfect as the prodigal father. The other roles are competently handled and reveal a sure directorial hand with superior literary material.
Final word: Back in the day, when I was a young married, my wife caught an extraordinary ABC-TV movie about a real-life mother Lucy Fay (played superlatively by Ann Margaret) of ten children in 1950s Iowa who contracts terminal cancer. Because her husband is incapable of caring for the kids, Lucy proceeds tenderly, yet methodically, to find homes for all of them… among neighboring farmers and others in the rural community. The name of the movie is Who Will Love My Children. I have since seen it, and I remember what my Rosi said about the story: it had such an emotional impact because it didn't hammer you with gory details, was not maudlin or in any way grubbing for pity. It kept its 'equality of humanity' with you. Remember Me has the same level of respect for its characters and for its viewers. A touching film experience.

---
This post has been read 2016 times!