by A. Scott Berg
Review by Brian Wright
---
"The more a man is, the less he wants." — Max Perkins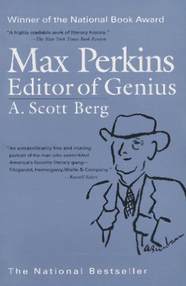 Having recently been overwhelmed by Woody Allen's masterpiece of Francophilia, Midnight in Paris, I was excited to know more about the several leading authors brought to the center of the world stage there. Particularly, Ernest Hemingway, whom the actor Corey Stoll absolutely nails… well, at least in writer/director Allen's eyes; as a man, I cannot help feeling a little surge of surrogate courage when the character talks so forthrightly yet kindly about love, bravery, honor, and death. [Come to think of it, Woody Allen's Play it Again, Sam offers a similar sendup of an inspiringly masculine and creative force in the cinematic community: Humphrey Bogart.] Sorry, this dalliance with hero-worship isn't to the point. The point is realization of literature and grand world literary figures of the 1920s and 30s.
And the kicker is that a quiet, unassuming man from New England, Max Perkins, as leading editor for the Scribners publishing house of New York, would be the editor for several of the authors depicted in Midnight in Paris—chiefly F. Scott Fitzgerald and Ernest Hemingway. Editor is undoubtedly far too confining a term to describe what Max Perkins did to effect and enable his authors' careers. From the book jacket:
"The talents Maxwell Perkins nurtured were known worldwide: F. Scott Fitzgerald, Ernest Hemingway, Thomas Wolfe among many others [e.g. Ring Lardner, Edmund Wilson, Will James, Erskine Caldwell, Marjorie Rawlings, Sherwood Anderson, who became accomplished writers, if not household names]. But the man himself remained a mystery, a backstage presence who served these authors not only as editor but as critic, career manager, moneylender, psychoanalyst, confessor, and friend."
It is relatively clear that had not Mr. Perkins materialized when and as he did in the business of American publishing, several of those he nurtured would not have had anywhere near the readership they did. Perhaps, Thomas Wolfe, in particular, would have been lost to world literature entirely. This remarkable, meticulous book of Mr. Berg's, Max Perkins: Editor of genius, won the National Book Award for good reason: it is eminently readable and thoroughly informative of several of the unique souls regarded as icons of 20th century American writers and novelists. Here are some passages that express Perkins' unique approach to bringing out the best:
"An editor does not add to a book. At best he serves as a handmaiden to an author. Don't ever get to feeling important about yourself, because an editor at most releases energy. He creates nothing." — pg.6

Beginning with Fitzgerald and continuing with each new writer he took on, he slowly altered the traditional notion of the editor's role. He sought out authors who were not just 'safe,' conventional in style and bland in content, but who spoke in a new voice about the new values of the postwar [WWI] world. In this way, as an editor he did more than reflect the standards of his age; he consciously influenced and changed them by the new talents he published. — pg. 41

The successful editor is one who is constantly finding new writers, nurturing their talents, and publishing them with critical and financial success. The thrill of developing fresh writing makes the search worthwhile, even when the waiting and working becomes months, sometimes years, of drudgery and frequent disappointment. William C. Brownell once heard that Roger Burlingame, one of Max's young colleagues, was discouraged by the labor. He went to him and suggested that 90 percent of the time editors perform duties any office boy could do as well. "But once a month, or once every six months," said Brownell, "there comes a moment which no one but you could cope with. Into that single moment of work goes all your education, all your background, all the thinking of your life." — pg. 50
On dealing with critics: In a letter [to Ernest Hemingway] Max reminded the author that there was a great deal of hostility to The Sun Also Rises:
"It was routed and driven off the field by the book's qualities and the adherence which they won. The hostility was very largely that which any new thing in art must meet, simply because it is disturbing. It shows life in a different aspect and people are more comfortable when they have got it all conventionalized and smoothed down, and everything unpleasant hidden. Hostility also partly came from those who actually did not understand the book because its method of expression was a new one… it was the same failure to be understood that a wholly new painter meets. People simply do not understand because they can only understand what they are accustomed to." — pg. 143
I find my greatest appreciation, besides to the 'editor of genius,' is to one of the more amazing talents Max helped become great, Papa Hemingway. I just love the directness and viscerality of his presentation:
"Really good writers are always rewarded under almost any existing system of government that they can tolerate," [Hemingway said in a speech to the Second American Writers' Congress at Carnegie Hall.] "There is only one form of government that cannot produce good writers, and that system is fascism. For fascism is a lie told by bullies. A writer who will not lie cannot live and work under fascism." — pg. 322

Hemingway said every writer had to give up on some novels to start others, even if it meant not always living up to the demands of the bamboozling critics, who, he said, had ruined every writer who read them. — pg. 112
Where the movie Midnight in Paris whets one's appetite for knowing more about the aforementioned literary giants of the 1920s and 1930s, Max Perkins satisfies that desire… stimulating a powerful urge to read the authors: Before the year is out, I'm definitely picking up the watershed works of Hemingway and Fitzgerald, also probably Wolfe. Having worked as an editor in the technical writing area, but occasionally in fiction, I believe I have the same feeling for the craft that Perkins has… mainly because I've become an author myself (thus far solely nonfiction) and know what the process takes. That Perkins, himself, never wrote is astounding; he certainly would have made a good author. He was content to liberate the beauty of others' words.
This book is a wonderful discussion of the interplay of creative literary minds, all the while reminding us of our common humanity with these great ones. Including the great ones' great facilitator, Max Perkins.
Save
Save
Save
This post has been read 3113 times!