Creative blend of cinema and literature (8/10)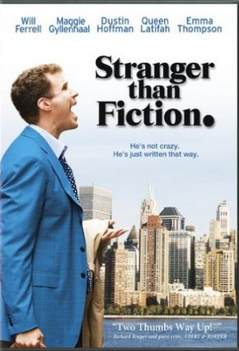 Walking through the video store, my lady friend and I like to look for slightly offbeat movies that receive critical as well as popular raves.  Stranger than Fiction gets the double whammy: Ebert and Roeper give it two thumbs way up toward the ceiling, then later we find out Rotten Tomatoes has given it like a 75% positive for both critics and ordinary civilians.
I learned my lesson about going only with the critics a few years ago.  We were at the video store during the holidays with her sister and brother-in-law; I picked up Wit, also a movie with a big role for Emma Thomson.  Ol' Roger had praised it to the rafters for being, well, witty; so I more or less sold everyone on taking it home.  It was the most dreary and depressing movie any of us had ever seen, and my movie- selection privileges were henceforth revoked.