Post World War II film noir w/authentic feel _ 8/10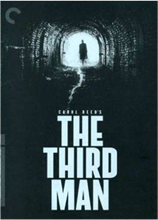 Calloway: Go home Martins, like a sensible chap. You don't know what you're mixing in, get the next plane.
Martins: As soon as I get to the bottom of this, I'll get the next plane.
Calloway: Death's at the bottom of everything, Martins. Leave death to the professionals.
Martins: Mind if I use that line in my next Western?
Anna Schmidt: A person doesn't change just because you find out more.
Amazing I'd never seen this highly artful, black and white film, because it actually has a bit of a political message, set as it is in immediate post World War II Vienna, Austria. The city was divided into four separately policed zones—US, Britain, France, Russia—mainly to accommodate the diplomatic niceties extended to the Soviets. Hint: Nobody wanted to be in the Russian zone.[1] It was quite common for Germans to forge their identity papers so that they would appear to live in districts under responsibility of the Western powers. Continue reading →