1936 novel set in London is strangely modern (8/10)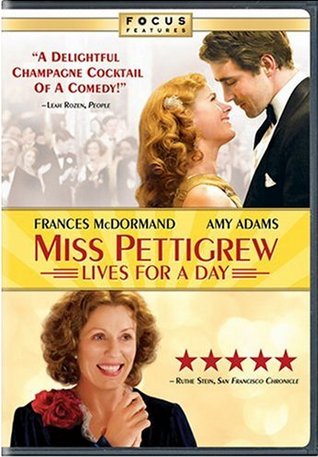 Delysia: [during an air-raid drill] Guinevere, I'm scared!
Guinevere Pettigrew: It's just a drill, I'm sure it's just a drill.
Delysia: But it won't always be, will it? We're going to war, aren't we?
Guinevere Pettigrew: Yes we are. And that is why you must not waste a second of this precious life. Listen to me. Once I too had ambitions. Not your grand ones, simple ambitions. Marriage, children and a house of our own. He died, in the mud in France. A good, solid man. You would call him dull, no doubt, but he smiled whenever he saw me and we could've built a life on that. Your heart knows the truth, Delysia. Trust it.
What a phrase, "… but he smiled whenever he saw me and we could have built a life on that." Uttered by Guinevere Pettigrew (Frances McDormand) to her strangely acquired mistress for a day, Delysia (Amy Adams), it comes toward the end of the movie in the context of an adoring piano player Michael (Lee Pace) proposing to Delysia that she accompany him to New York for song and marriage. Continue reading →