From Part 1: Dorothy. Weaverville, Northern California, Segment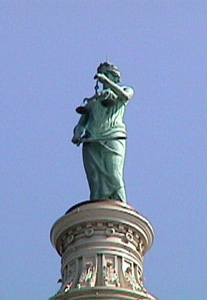 [Excerpt from The Truman Prophecy, due for publication 12/25/15.]
The Trinity River was running higher than normal for the season, making it doubly difficult to locate smaller runoffs that might be productive… not to mention for setting up his equipment.
Clarkson Hodges, civil engineer, author of The Hidden 4th Branch (about the natural grand jury and its proposed American recovery)—and as a way to help make ends meet and occupy time he couldn't be spending with his son (thanks to a less-than-pleasant-or-even-halfway-fair divorce deal)— had developed a gold extraction system that was beginning to pan out. 🙂  At least with sales of the extraction machinery itself.
Here he was on the cusp of a personal gold tremor, if not rush. Meaning he can now pay the cable bill and even make a dent on the back rent. Half of what he made from the county surveying job went straight to 'her.'
Why all this hardscrabble in his life?
Frugal, not saintly, Kelly (40-something) enjoyed an occasional stop at the brew pub, dated irregularly, was known to play a pony or two, but kept to a budget—that included regular donation to his community church. Continue reading →