Free Doreen Hendrickson… and the American 300 million…
via Attorney Mark Cedrone, Pete Hendrickson, reported by Brian Wright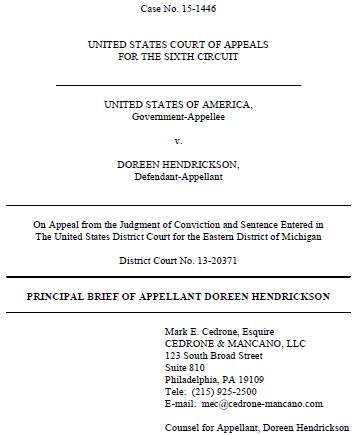 … from ignorance, deceit, and malicious behavior of public officials.
Full appeal brief here (7/20/15):
http://www.losthorizons.com/Newsletter/DoreenAssault/FILEDPrincipalAppealBrief.pdf
The following text is the summary of the argument in the appeal. From the little I do know about the law, and from the substantially more I know about good writing, the Doreen Hendrickson appeal brief is a stunning statement of the principles of liberty and reason that stands to imminently remedy gross injustice. The court has no moral or legal option but to grant the appeal and restore Doreen Hendrickson to full freedom.
Summary of Argument
I.
The Order Doreen Hendrickson was convicted of contemptuously violating was unlawful. Meanwhile, for a defendant to be convicted of contempt, the underlying Order they are accused of violating must be lawful. Continue reading →