My epic struggle against the 9/11 Big Lie
by Kevin Barrett, PhD.
2007, Progressive Press, 211 pages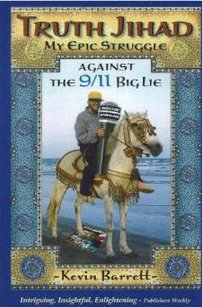 This is a book I picked up (purchased) from the 2007 Porcupine Festival courtesy of the peripatetic communicator of 9/11 truth and ruling-class treachery, Mr. Steve Goodale.   He also provided some DVDs that I aim to get around to eventually.
The still diffuse 9/11 Truth Movement has been making quite an impact on public awareness over the past several years, with many significant works emerging.  Dr. Barrett, as a writer and an organizer of seminars, ranks right up there in the pantheon of intellectually and physically courageous leaders devoting their "lives, fortunes, and sacred honor" to bringing the lies down and bringing the liars to justice.