… front row seat that Hell has to offer, I only wish it weren't solely a metaphor
By Brian R. Wright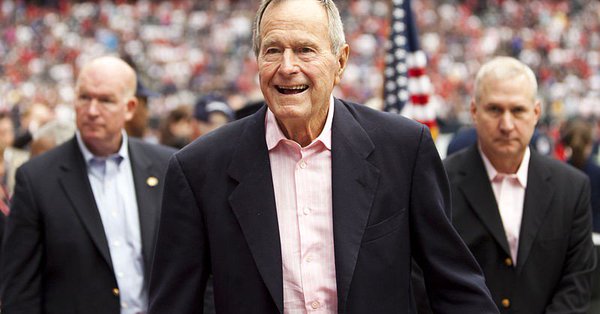 Amazingly, my preawakened dear twin ones who still relish the powder puffs and crocodile tears of official mainstream Sunday TV hagiography for recently departed grand poobahs of US officialdom accused me of fomenting hate and worse when I passed along this understated Tweet from Ms. Caitlin Johnstone: https://twitter.com/caitoz/status/1069017601903226881.
Part of the problem lies in the fact that neither of my loved ones uses or presumably likes Twitter. In any case, I felt the need to follow up to give the overwhelming substance that indicts the pontificating paragon of the New World Order, George Herman Walker Bush.
"Okay, I'll just send the pertinent Webpage link henceforth, in this case, not be hatin', rather carryin' the deepest message of LOVE for all the victims of any particular departed NWO beast or other tyrant the mainstream chokes on in their teary accolades. From Caitlin:
'If a man kills a lot of people, then his legacy is that of a mass murderer. There is nothing else anyone could possibly accomplish in his lifetime that could eclipse the significance of the act of violently ripping the life out of thousands of human bodies. I don't care if you started a charity, if you gave a graduation speech, or if you loved your wife very much. If you committed war crimes, knowingly targeted civilian shelters, and deliberately targeted a nation's civilian infrastructure to gain a strategic advantage after the conclusion of a war based on lies, then you are a mass murderer who may have also done some other far less significant things during the rest of your time on this planet. That is who you are.'
"The column only touches the Iraq I aggression highlights of this particular monster–look up depleted uranium. When any of these mass-atrocity generators or collaborators bites the dust, the only sane response is relief… and mourning for his dead or damaged prey. It's our responsibility as rational beings caring for our fellow humanity to know the facts, expose any remaining crimes, and remember those upon whom he committed the horrific acts he directly perpetrated and/or facilitated.
"Failure to do so is betrayal of the victims.
"I'm sure you both agree we want nothing but love for the millions of them."