Review: Matt Skow's TruHistory Films' four-part docuseries on the USS Liberty
by Brian R. Wright, 8.5×11-inch PDF version of review located here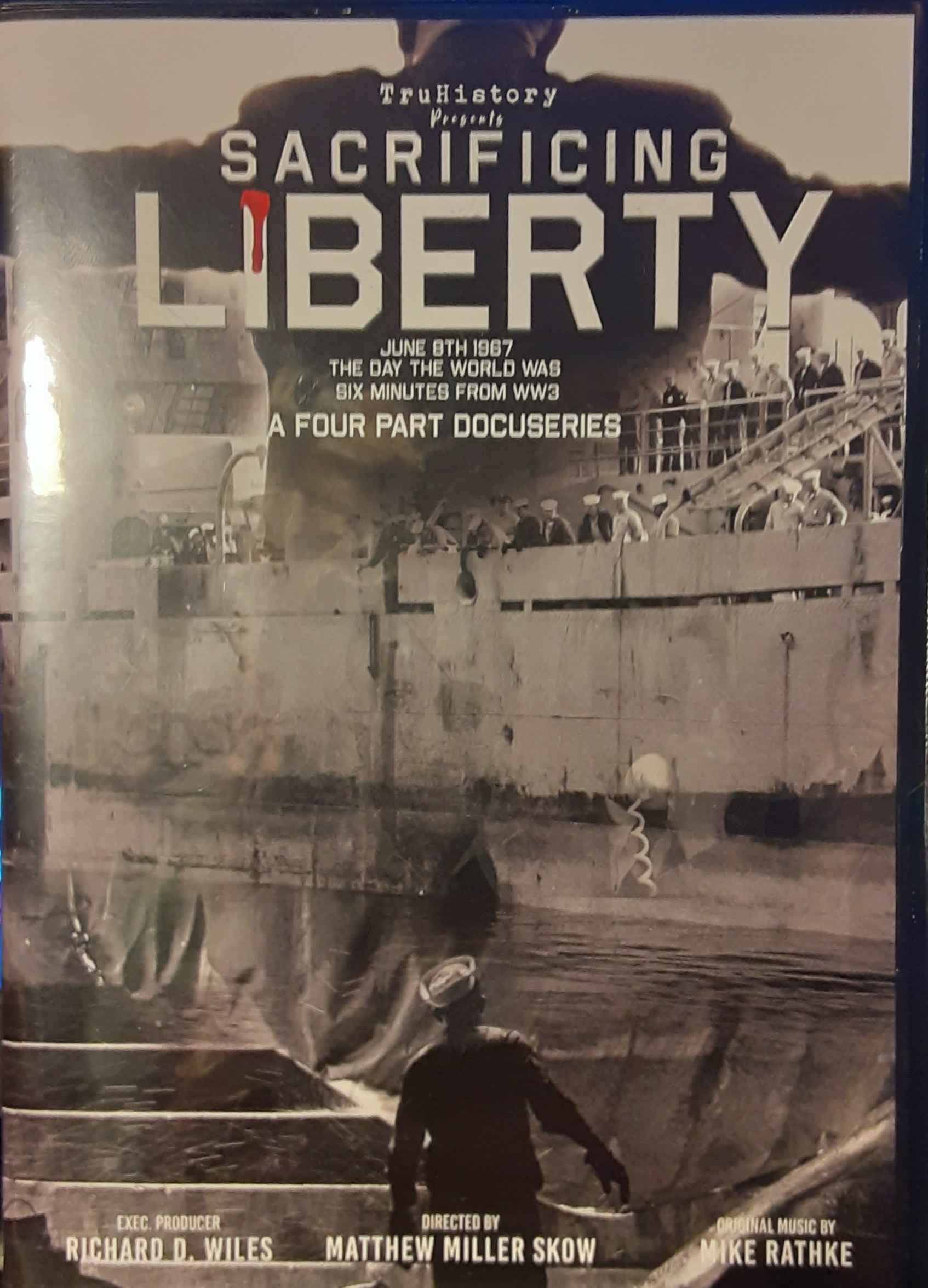 One is at a loss for superlatives in reviewing this stellar work, Sacrificing Liberty. First, it's a state of the art, full audiovisual-impact documentary, finely honed by one director-editor-cinematographer-archival-artistic-retrievalist Matthew Skow under auspices of the TruNews Christian media network with the utmost care for the men of the USS Liberty—whether surviving, injured (174), or killed (34)—out of a crew of 294.
In case you missed it, the Liberty was the American state-of-the-art communications ship in the middle of the so-called Six-Day War that Israel strafed and torpedoed in International Waters. The day, June 8, 1967, when Israel effectively declared war on the United States—it should have lived in infamy—was passed over in deafening silence by most Americans thanks to the official story that the Jewish State MISTOOK the Liberty—despite American flags flying on a clear day and large bold-white insignia on the bow [and Israel's own flying-boxcar airplanes' protracted surveillance]—for a much smaller WWI Egyptian horse-ferrying vessel.
Several books and videos have been produced—starting with Jim Ennes's book, Assault on the Liberty—showing beyond any reasonable doubt that the attack was anything but accidental… and in fact was a combined covert hare-brained project risking nuclear war with the Russians concocted by a treasonous president (LBJ), key members of his Zionist[1]-dominated administration, top US military officials, and the Israeli military. This author has written reviews of or composed the following works:
All of the above, and others demolishing the official story, are worthwhile and deeply moving, and serve to show just how transcendent and comprehensive a production Sacrificing Liberty is. SL in effect puts together all the wonderful exposes and tributes into a comprehensive narrative that will become, one hopes, a rallying journalistic coup d'etat for American patriots.[2]
The coverup of the truth behind the USS Liberty attacks was heavy-handedly thorough from the start. Crew were warned, actually threatened, in person by Admiral Kidd that they were not to talk to one another, to their families, and especially to the media—or they would face imprisonment "or worse." Meaning death. Survivors were sent to separate assignments for the rest of their naval service. Continue reading →