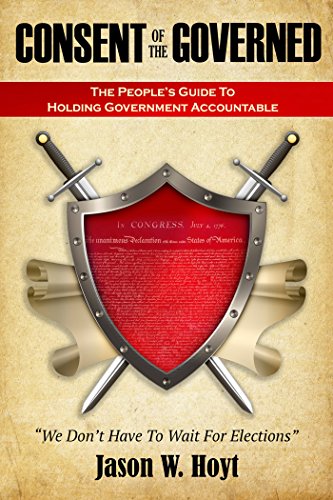 Abundant thanks to my recently realized compatriot, one David Schied (standing on the front lines boldly against Michigan general corruption), for referring me to this remarkable groundbreaking rallying cry for the people's reassumption of their inherent grand jury authority. David, in a recent conversation, extolled Consent of the Governed as perhaps the most important book he's read in the past decade… commanding his undivided attention until completion.
I purchased the Amazon Kindle edition for a very reasonable price of $5.99, digested it in roughly a week, and I agree: It IS the most important book that activists for liberty will read this year or for the remainder of the 20-teens. Why? Because as the subtitles tell us, it is the people's guide to holding government accountable, informing us—with meticulously researched references—that 'we the people' are, indeed, in charge and fully constitutionally franchised to take back our direct power over all the institutions of government. By OUR grand juries. NOW.
"We don't have to wait for elections." We don't have to wait period.
It's simply a matter of working out the details. How to best coordinate the state's—federal, state, and local levels—wholesale relinquishment of corruptly assumed authority with its facilitation, accommodation, and  enforcement of the people's grand jury investigations, indictments and presentments[1] (and petit or trial jury functions, too, by the way). In other words, make all public officials, in fact, what they were meant to be in theory: direct, 24/7/365-accountable servants, gophers, waterboys of and for the people.
"That's mighty tall talk for a one-eyed fat man," you say. [ref. John Wayne film, True Grit.] Continue reading →