A brilliant friend and candle of deep moral, intellectual courage flames out
By Brian R. Wright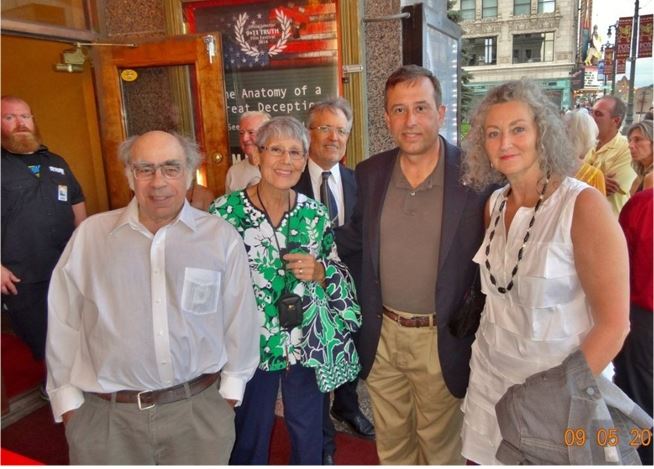 In the early days of my making friends in the Detroit-area 9/11 truth movement, I remember Rudy List distinctly. We were at the home of Stan Beattie in Farmington Hills. Others present were Dick Kennedy and a fellow from Port Huron. [The sad fact is that an active and effective local chapter of 911 truthers never materialized in SE Michigan, even with the advent of successful entrepreneurial family man, David Hooper, with his wonderful movie, Anatomy of a Great Deception I and II.] The picture is taken at the gala premier of AGD 1 at the Detroit Fillmore Theater, downtown; Rudy is front, left.
Even at that initial meet gathering in Farm Hills, Rudy expressed his strong views contra Israel and "Jewish Power" for particularly being at the root of the 9/11 plot, attacks, and coverup.[1]
Background
Rudy was born in Bay City. His father, Ed, worked in a factory there. His mother kept house and was a hairdresser. He had two brothers, Paul and Tom. Rudy attended the University of Michigan where he graduated cum laude with a bachelor's degree in mathematics. He then moved to England and entered the University of Birmingham and achieved a Ph.D. in mathematics and computer science. He traveled widely teaching both subjects.
He was founder with three other individuals of Lockwood Corporation and wrote some of the first widely used investment programs for clients like Goldman Sachs in the 1980s. Friends state that Rudy had expert knowledge of core Microsoft source code, and discovered bugs in the operating system(s) that self-created viruses and provided substantial sources of revenue for Microsoft to fix. He submitted his notes to lead development officials at Microsoft, which were ignored.
Rudy had five children from three marriages. His surviving wife, is Hody, whom he met thru her brother in England in 1980. Continue reading →