A unique womanly spiritual journey _ 7/10
---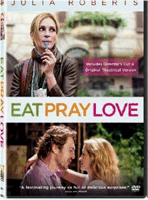 Liz Gilbert: In the end, I've come to believe in something I call "The Physics of the Quest." A force in nature governed by laws as real as the laws of gravity. The rule of Quest Physics goes something like this: If you're brave enough to leave behind everything familiar and comforting, which can be anything from your house to bitter, old resentments, and set out on a truth-seeking journey, either externally or internally, and if you are truly willing to regard everything that happens to you on that journey as a clue and if you accept everyone you meet along the way as a teacher and if you are prepared, most of all, to face and forgive some very difficult realities about yourself, then the truth will not be withheld from you.
Directed by Ryan Murphy
Novel by Elizabeth Gilbert
Screenplay Ryan Murphy
Julia Roberts … Liz Gilbert
I. Gusti Ayu Puspawati … Nyomo
Hadi Subiyanto … Ketut Liyer
Billy Crudup … Stephen
Viola Davis … Delia Shiraz
James Franco … David Piccolo
Richard Jenkins … Richard from Texas
Anakia Lapae … Tutti
Javier Bardem … Felipe
Gita Reddy … The Guru
Eat Pray Love is one of those movies that I'm not sure whether I like it or not, or whether the character is sympathetic to me, but at several points I receive a beam of positive vibes and enlightenment. EPL is the memoir of Elizabeth Gilbert (Julia Roberts) a young successful writer in New York who travels to Bali on a story to meet a 10th-generation medicine man. What he tells her changes her life; it starts the ball rolling where she:
abandons her marriage [for deep, nebulous reasons]
finds the next guy who points toward a woman guru in India
goes to Italy to explore her sensory, especially gourmet, potential
proceeds to the woman-guru retreat in India
then on to the final spiritual destination
… and at all these points of her metaphysical journey the viewer, along with Elizabeth (Liz), comes to some deeper realization about life. [Actually I saw the movie twice within a couple of days; it's a two-hour-plus amble that many will experience as slow. But if you stay with it, you'll be rewarded.] The main problem for many, I think, is do we really care what happens to Liz, is she someone we find honest or real on a fundamental level? That's the $64,000 Question[1] about EPL.
Especially with Husband Number 1 Stephen (Billy Crudup)—actually Liz's only husband during the story—we see Liz, in the social context of her circle of connected, affluent artistic friends, questioning her life. Does she want to have children? Did she ever want to have children? We learn later that she was 100% in control of the relationship from the storybook wedding to the selection and decoration of their home(s). From the few minutes we witness Stephen's behavior, we gather he's not a real go-getter. He's educated, good-looking, funny, sort of employed. Pleasant but definitely not a take-charge, ambitious guy; he follows her lead.
So right away perhaps we see the Big Contradiction of Liz Gilbert. She's an extremely smooth control freak who isn't about to play second fiddle to a man, so she picks a guy who is cool with that attitude, and dumps him because… why? Maybe in the deep recesses of her soul she longs for a manly man who exhibits the strength of character she finds sexually stimulating—despite that outside the bedroom she's going to be fighting him on every little thing. Stephen is never going to measure up to the inner craving she has for the conventional heroic 'man to look up to.' He's just not a hero, and she'd figure out a way to dominate him if he were.
All right, it's a nonflattering perspective that I believe a handful of viewers or readers—the movie is based on Ms. Gilbert's book of the same name—are going to have about this quietly driven woman. To her credit, and fortunately for the rest of the story, we're given to believe she comes to know how she is. And doesn't fully like it. Equally important, she seems to have the personal courage to embark on a true journey of self-discovery, as revealed in the 'Physics Quest' quote above. Rare for men, very rare for women, making it doubly brave.
I, myself, find more and more connection with Liz as she moves along the path of her journey. And I feel you will, too, man or woman. First stop is New York City itself with a 'hot' off-broadway actor David (James Franco); he's performing in a play she wrote and she finds him irresistible. He, too, is a little on the feminine-quality orbit, having artistic aspirations and also being devoted to an Indian woman spiritual teacher referred to simply as the Guru (Gita Reddy). Ahh haa, you can see the light bulbs going off in Liz's head: when the time is right, I'm going to ditch sad sack Man #2 and make my move. She tells her editor, "I want to go somewhere where I can marvel at something. I'm going to Italy, India, and Bali."
This will also fulfill the Bali medicine man's prophecy at the beginning of the movie. That prophecy said she would be married twice, once short and once long, she would lose everything in the next year (but gain it all back), and find medman again in Bali, where he would show her all his secrets.
First, Italy. Supposedly, at her divorce, as the bigger breadwinner, she gave Stephen 'everything.' Which fits with the medicine man's prophecy. But I'm not buying the life of poverty. Even though we're shown a spartan first room in Rome where she's going to be living, she's an excellent hobnobber, and for this wining and dining branch of the journey she picks up the check plenty of times. Her Italian friends are colorful. They are also full of insights on the zero-joy 'American materialism' condition and the 'Italian epicurean' solution. Great stuff. Totally blows American parochialism out of the water. And Liz succumbs to the pleasure, hence 'Eat.'
Then India and the Guru. Liz becomes friends with 'the Texan' (Richard Jenkins), a gruff, elemental man who calls her Groceries because she still so loves to consume the ample food provided at the spiritual retreat. The peak scene between Jenkins and Roberts warrants an Oscar—thanks to Jenkins—of its own. Liz is beginning to touch people's lives at a depth and marvel she never imagined. Hence, 'Pray.'
Finally, on to Bali and the medicine man. Liz is there a few days when she has a meet-cute with the Brazilian (Javier Bardem) that wounds her leg. It looks like a pretty serious cut, so she returns to the medicine man. But medman refers her to a medicine woman skilled in the ways of healing. This woman, whom I'm not sure of the credit for, plays a pivotal role in the finale, the final glide path toward letting go for 'Love.' [I have to give Bardem snaps for substantial screen presence in an engaging, energetic role, totally contra the menacing character for which he won the Academy Award in No Country for Old Men.] This is a different sort of film. Can generate a lot of discussion. My favorite Liz-ism, in India:
God dwells within you… as you.
So a worthwhile movie effort, book was big hit, definitely on my list.
[1] By the way, if you put $64,000 into the inflation calculator, the payout for that 1955-1958 show today would be $514,054.63 in good ol' FRNs (Federal Reserve Notes). So it's the One-Half Million Dollar Question.
This post has been read 1912 times!