Riding the American Dream
by Bo Keeley
Review by Brian Wright
---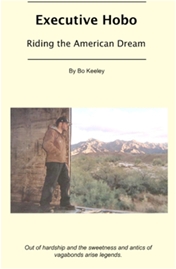 As the editor and publisher for Executive Hobo, I'm in an ideal place to comment on one of the more unique books of our time. Similarly, its author is one of the more unique individuals of our time (from his Wikipedia entry you can see him as a colorful combination of Jack London and Jack Kerouac).
Bo's hoboing life proceeded from the migration of his professional life as, first, a veterinarian—receiving his DVM from Michigan State University in 1972—and second, a professional athlete—he was one of the top three racquetball players in the world from 1971 to 1976 and winner of seven NPA National Paddleball Championships in the 1970s. In the 1980s he turned to world travel generally, and hoboing in particular; by many measures an iconoclast, Keeley, chose to make his home in an isolated Southern California desert burrow, while pursuing diverse adventures and journeys that can only be called extraordinary.
Executive Hobo is a distillation of several of Bo's hobo journeys, with a special focus on a trip he organizes online for several affluent, innovative, and established world-class business executives—though one of his boxcar charges is a brightly spirited libertarian Canadian lady-comedian (Lise "Clown" Bradley)—which endures for several months, ending, notably, on September 11, 2001. Most of the stories have some connection to Bo's executive hobo tour company, and the cast of exceptional characters arises from all walks of life. For me, probably half the appeal of Executive Hobo lies in the amazing stories and personal growth of those who ride.
… and their background stories. Humor springs forth, for instance, in this recall from one of Bo's execs, Wiz, during serial reflections by the hobos:
Arthur 'Wiz' Tyde III is an egghead on a strapping frame with an eager walk. "You carry less physical and emotional baggage if you live each day as though it were the last. More is almost always preferable to not enough. Never underestimate the stimulating value of eccentricity." He doesn't smile below the eyes when he talks but the corners of his mouth twitch speedily with each understanding, and he is an excellent listener. Today, in rare animation, he breaks the yolk of his youth to reveal how he became a self-made nerd.

"My parents nearly dropped me off on the doorstep when I was twelve. A little bastard named Jimmy next door taunted me so in a fit of revenge I invented Pooh Juice. I took a bushel basket and scooped the neighborhood dog and cat poop. I slid it into a big steel pot and put on a layer of Brewer's Yeast, then added water. I then wired the pot to the backyard transformer to ferment for a month. One morning, I carefully transported the pot to evil Jimmy's doorstep so he would get the blame, lifted the lid, and ran. In a matter of minutes, all the pet dogs and cats in the neighborhood started choking because Pooh Juice is slightly heavier than air. People ran screaming from their homes and the police yellow taped off a square-block. My parents found out and grounded me for a month in the basement, a mistake because it was my workshop."

"I developed an early collective consciousness with robots. I built a fleet to help my parents with chores. A maid named Red cleaned the basement for mom. It was built from a vacuum cleaner, car battery, electric eye, ice pick, and waste basket. It patrolled the basement whirring and blinked when it spotted trash. Then the pick went up-and-down with a tenacity I hadn't imagined possible until it stuck the trash and tossed it over its shoulder into a basket. One day mother went into the basement in bright high heels and the power went out. She apparently locked the door. The robot chased her high heels with the pick for five minutes until the lights went back on. Those were robotic grandchildren a father could be proud of."

"With dad, it was ball lightning that chased him from the basement office. I fabricated a ball lightning generator in my downstairs laboratory that rivaled nature…. — Pages 66, 67
How many kids do you know who can build a robot, create ball lightning, or, for that matter, make a stink bomb that clears the neighborhood? These are the types of personalities that Executive Hobo seeks out and revels in. The rail adventures are just as stimulating and entertaining, though not laugh-out-loud as the above.
Just about anyone will get exceptional value from reading this book, as it's an "incredible" true story told directly from the street—er, rail—level by perhaps one of the most iconic individualists of our time. His writing style I find to be a mixture of Jack London and Ernest Hemingway, which is interesting because both celebrated authors spent time on the rails and wrote about the Grand Ethic of hoboing. But Bo's his own dude and his own writer, always completely in his element while riding the rails… in these cases mainly with a cream of the crop of modern business executives.
My perspective is libertarian, and in that Hobo does not disappoint. This passage is precious:
Clown and I continue to walk the train identifying the different cars: gondolas, tankers, other hoppers, flatcars and, at the very end, a solitary boxcar. The dog grows smaller in the distance even as the tramp has disappeared in the briars. "I can't let go the feeling of freedom of the man and dog," declares Clown. "Yes," I agree. "They are a living example of hobo life and of the American pursuit of happiness. It's what this one country on the big globe stands for. The collective doesn't decide the purpose of the individual. Every person, hobo, and dog has a right to try different paths, pick one, and live it for himself." — Page 82
The other impressive angle to Executive Hobo, I mean besides the story-telling, is its apotheosis of hoboing itself. Toward that end, Bo includes several appendices covering everything from hobo communications symbology to Railroad Indicators for investing in the stock market. The author knows the history of hoboing, and he is personally familiar with many celebrated practitioners over the years; Bo's respect for the tradition is palpable. He even taught a class at Lansing (Michigan) Community College: 'Hobo Life in America.' Because of the substantial reference information mixed with a penetrating eye and sure hand for realtime storytelling, my prediction is Executive Hobo will become the quintessence work for defining the hobo experience in America. It has best-seller potential… especially if the world decides to grow up and embrace libertarian paradigms.
The writing is superlative on all fronts. Even natural descriptive phrases jump off the page and draw your attention, as this intro to 'Great Basin:'
The serpentine rail grabs a stairway of valleys down to the desert floor. The tunnels cease on one step, the snow-sheds on the next, and the Juniper pines fade lower on. The last stage is a long bend of the rail where the couplers finally stretch and brakes silence. The freight slithers like a coughing snake out of the Sierra foothills, straightens and empties us into the Great Basin Desert.

Shades of the train sequences in Atlas Shrugged! Anyway, once you open and start it, Exec Hobo will not incline you to lay it down. Bo is also the author of Keeley's Kures: Alternative remedies from the trails and trials.
This post has been read 1588 times!