Modern morality comedy in candid setting ___  8.5/10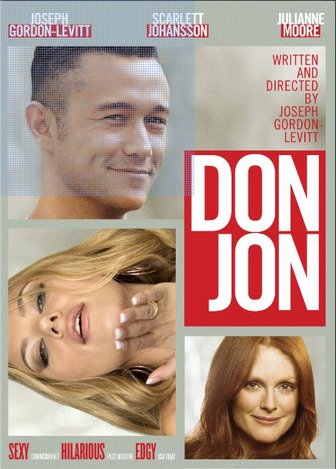 Don Jon is another Netflix pic that panned out nicely.
[Who goes out to the movies anymore? Last time yours truly took in the silver screen up close and personal was to watch Atlas Shrugged III. To make it an official night at the cineplex I ordered a MEDIUM cola and MEDIUM popcorn… then walked away, I think it was, $12 poorer! Yikes! They need to surround the concession stands with yellow tape as a crime scene.]
But back to the movie at hand. The IMDb blurb says, "A New Jersey guy dedicated to his family, friends, and church, develops unrealistic expectations from watching porn and works to find happiness and intimacy with his potential true love." So I expected it to be on the frank, perhaps even raw, side, but I've always liked Gordon-Levitt's movies where he's an actor—since Brick (2005), The Lookout (2007), and especially (500) Days of Summer (2009)—and this one he also writes and directs. So I put my offensiveness meter on standby and gave Don Jon a fair shake, so to speak.:) Not the kind of movie to watch with one's parents… or one's kids.
But definitely out there and honest. No doubt a situation that a lot of young guys deal with one way or another—that they prefer getting off on pornography to the real thing. Jon (Gordon-Levitt) lives in a New Jersey city, I'm thinking this is an older Italian neighborhood, and, from the opening narration, he only cares about a few things: My body (he works out in the gym a lot). My pad. My ride (a vintage Chevelle SS muscle car). My family. My church. My boys (sidekicks). My girls (the girls he picks up for one-nighters). My porn. What sets Jon apart is he routinely scores with the girls his buddies consider 10s and only dream about. So what's going on?
Eventually, he meets cute with "a dime" Barbara (Scarlett Johannson), and begins to go through the motions of trying to establish a longer term relationship, even to the point of bringing her home to meet the family. [Jon's several scenes at the dinner table with his mom (Glenne Headly), dad (Tony Danza), and sister are hilarious in a scary sort of way. In fact, several other aspects of his life in the neighborhood are similarly frighteningly (extremely) funny—such as his road tantrums in the SS, his confessions at the Catholic church, and his 1st-person narrated observations about sex and women. Levitt, the writer, skillfully captures so many nuances of young wannabe manhood and the modern culture that surrounds it, at least in that Jersey blue collar neck of the woods.]
Barbara wants Jon to attend night classes to better his employment situation. While there he meets another woman, Esther (Julianne Moore), who is another new and unexpected experience with the fairer gender. Jon's preference for porn has already been challenged with Barbara, so what will the older and more life-seasoned Esther bring to the table… or perhaps more accurately, to the bed? Beneath the self-satisfied exterior, Jon projects a kindly nature with untapped sensitivity. Will he make the grade into true manhood, or into fully satisfying sex?
Don Jon is a small movie in many ways, and it moves at a rapid, witty pace. At the same time what wonderful big-movie performances from all the actors! I've rarely seen a movie that balances potentially heavy, tenuously bordering on raunchy, reality with a benevolent, lighter sense of life. That's good writing and directing. Unique. You also come away appreciating the real skill that acting requires to put across such a rich matrix of entertainment and self-discovery. Thankfully, everyone is up to the part; it's a real treat.
[Reviewer's note: I'm still in the process of moving over movie reviews and book reviews from my former old-style site. Moreover, for new reviews like this one I've decided to adopt a 'less is more' approach for a number of reasons: to ease up on the workload, to lighten up the word count for time-strapped readers, and to lessen the tendency to give away too much of the key content so as not to interfere with the joy of the original moviewatching and bookreading experience.]
This post has been read 1293 times!