Romantic, idealistic schmaltz by any other name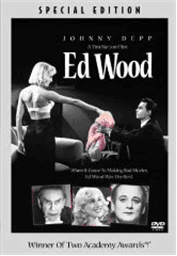 Orson Welles [to Ed Wood]: "Visions are worth fighting for. Why spend your life making someone else's dreams?"
Ed Wood, the movie, is an homage to two quirky, dedicated idealists of the silver screen, the director Ed Wood (Johnny Depp) and the actor Bela Lugosi (Martin Landau). It seems to set up as a comedy initially, as we watch producer-writer-director-actor Ed learning the ropes of Hollywood —he's the epitome of the independent filmmaker, operating on a wing and a prayer—and struggling to make ends meet. Right off the bat we learn Wood has a fetish for wearing women's clothing, which really isn't supposed to be funny by itself, but it fits with the sort of lovable offbeat losers he seems to like to surround himself with as cast and crew.
Johnny Depp … Ed Wood
Martin Landau … Bela Lugosi
Sarah Jessica Parker … Dolores Fuller
Patricia Arquette … Kathy O'Hara
Jeffrey Jones … Criswell
G.D. Spradlin … Reverend Lemon
Vincent D'Onofrio … Orson Welles
Bill Murray … Bunny Breckinridge
George 'The Animal' Steele … Tor Johnson
Lisa Marie … Vampira
So Wood is going about his business in LA and has a chance encounter with Lugosi, who is doing a promotion for funeral caskets. They get to know (and like) each other as people. Wood is a huge fan, having grown up in the archetypical small town of Poughkeepsie, New York, where he relished the movies… particularly the classic 1931 Dracula in which Lugosi stars, and for which he acquired fame and some degree of fortune. These two men come to have a deep respect for each other, and Ed Wood the Movie does an excellent job of making that respect real.
As Ed Wood seizes upon the idea of using Bela in his films, their fortunes there in the early 1950s become intertwined. Picking up on the trends of those days, Wood begins to write and produce low-budget films that have eclectic themes that combine monsters, ghouls, megalomaniacs, space creatures, kinky sexual hintings, and even cops and robbers. He's like a little boy—or a painter who only cares for his own style and doesn't worry about the details or any true refinement—whose enthusiasm and love of the "big picture" is all that matters. And Depp gives a perfectly charming performance.
Wood's work has an unmistakable home-movie quality, down to the intimate population of those involved—which is an acting and production ensemble that rarely exceeds the number of guys in a baseball pickup game. This is a family business: Wood loves his family and they love him. And if I had to pick the "message" of his magnum opus Plan 9 from Outer Space (and the message of most of the other movies he made in his prime), I'd say it is simply the act of sharing the joy and exuberance with which the work is accomplished: "We are so thrilled to be part of this experience on the production side that plot gaps, story contradictions, prop failures, missed lines, and so on pale to insignificance." The artist Ed Wood simply leaves them in as a tribute to everyone's normal reality.
It's fascinating, and in Ed Wood, it's unbelievably funny with the kind of humor that is meant to be commiserating rather than disparaging. In real life we all mess up our lines, we forget to call, we drop things, we do stuff that doesn't make an awful lot of sense. That's why we like home movies: we're at home. Well, Ed Wood's movies maintain that earthy, familial feel while at the same time expressing, occasionally, some of the highest sentiments known to man. And what distinguishes him as a writer-director-producer is he really means these aspirational things… deep down in his innocent, small town, transvestite-heterosexual, nice-guy bones.
It's hard not to identify with Ed Wood: with his struggle, with his compassion for friends and respect for peers, with his honesty and integrity, and with the earnestness of his vision. He walked the walk with everything he had, holding nothing back. In some respects he represents a golden age in Hollywood, where there was room for pure schmaltz on any scale. Our more recent experience with independent producers-directors-writers, say, Kevin Smith's Clerks or Edward Burns' The Brothers McMullen, shows the same honesty yet lacks the grandiose boyish twinkle in the eye. It's also gritty, not light or carefree. With Ed Wood, they threw away the mold… and there was only one mold.
Sometimes a movie will come along that gives a hint of the Wood method. In my later college days (early 1970s, Wayne State University, Detroit area), I recall kicking back with some doob' while tuned into a local SE Michigan Saturday latenight feature called The Ghoul—a magical experience in its own right. Ron Sweed as the Ghoul, the zany host, would dig out a movie from the "Ghoul's Vault of Golden Garbaj," and inflict us wannabe-adolescents-again with triple-D rejects interspersed with blowing up plastic frogs with firecrackers. (The commercial breaks were far more entertaining than the feature presentation.)
One of these movies I remember particularly was a 1965 gem called Monster a Go-Go (sic), starring the legendary Phiilllll Moorrrtonnnn! It had zero plot and from the perceptual breakdown made possible by modest amounts of marijuana, we saw readily that the sets were constructed in a rundown old trailer park. Go-Go could not even have had the budget of the cheapest Ed Wood movies. I sat on my hands on the living room floor, cramming popcorn in my face, literally rolling around laughing hysterically for (what seemed like) hours on end. Right from the start, watching stock footage of go-go girls dancing with the credits, we were hooked on this sophomoric substitute for genuine schlock.
Aside from the cheap and amateurish sets and bad acting, there was little to compare to Wood's approach, which intended not to be ha-ha funny rather childishly romantic. In other words (I think) Wood meant to be taken seriously but with the lightness of offering entertainment for its own sake. He incorporated his serendipitous Bela Lugosi roles as needed, and yes, they provided gravity… and testament to Wood's loyalty to a proud tradition of the honest horror/sci-fi genre.
If you watch the DVD, be sure to view Martin Landau's segment along with the makeup man Rick Baker (both of whom won Oscars). Landau's work as Bela Lugosi is such a dramatic tour de force, so touching a portrayal of a real man—heroic and dignified at his best—facing the sad facts and last acts of his final years, that it practically takes your breath away. The movie Ed Wood brings two great men of cinema to life before us: the lovable and quixotic Ed along with the troubled yet immensely proud Bela… both inimitable.
Ayn Rand used to talk about "sense of life," which is a quality a person has in the way he/she walks and talks and smiles or looks at the world—and hard to put into words. Is Ed Wood, the movie, a tragic comedy or a comic tragedy, or both? In either case, I consider it a sense of life movie, where we see how the world looks from two (actually several—many of the subordinate characters, esp. Bill Murray as the homosexual Bunny Breckinridge, are equally fascinating) distinct emotional vantage points sharing the same principle… the one identified by the quote from Orson Welles above.
Wonderful job.

This post has been read 1330 times!