Literary and musical satire, roflmao, will stand the test of time (8/10)
Directed by Jake Kasdan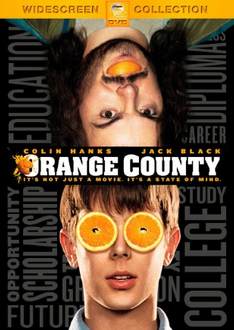 What an amazingly entertaining movie… with almost exactly the right amount of serious inspiration. One of Colin Hanks' (son of actor Tom Hanks and Samantha Lewes) first efforts, and it's a doozy for him; he's in practically every scene. He plays a California high school surfer dude, Shaun Brumder, who after discovering a book on the beach in his senior year decides he wants to be a writer. The movie also features the daughter of Sissy Spacek, Schuyler Fisk, as his girlfriend Ashley… and is an early directorial effort of Jake Kasdan, son of well-known director Lawrence Kasdan. Whoever did the casting for Orange County should have gotten an Academy Award… assuming they give Oscars for casting.
Here's a list of the better knowns:
Colin Hanks                         Shaun Brumder
Jack Black                           Lance Brumder
Schuyler Fisk                      Ashley
Catherine O'Hara                Cindy Beugler
Mike White                           Mr. Burke
John Lithgow                       Bud Brumder
Lily Tomlin                           Charlotte Cobb
Chevy Chase                       Principal Harbert
Garry Marshall                      Arthur Gantner
Dana Ivey                             Vera Gantner
Jane Adams                         Mona
Harold Ramis                       Don Durkett
Kevin Kline                           Marcus Skinner
They're all outstanding or at least highly competent, and, yes, the Jack Black casting as Shaun's drugged out layabout brother adds a super charge of comic energy without which the film would be less remarkable. But the one actor who adds by far the most stellar touch to the superficial and lost souls inhabiting this gentle, though slightly raucous Orange County satire is Catherine O'Hara, who plays Shaun's wine-friendly mother. She is sooo funny, and you can easily imagine just such a woman in just such circumstances.
Cindy: So I married Bob, for you! I had sex with Bob, FOUR TIMES, for you! So how can you call me a bad mother?
Which of course also points to the picture perfect writing and direction. How her dramatic antics work to practically scuttle her son's aims to attend Stanford, with help from Lance, provides one of my favorite comedic scenes in the movies. Not only does she produce the lines with excellence, she adds elements of physical humor at just the right moment in just the right proportion: a hiccup, stumbling down the stairs and causing a picture to tilt askew, showing hesitancy to tell her sad story by saying "eh?" then saying eh again without the question mark followed by unleashing way too much personal information to her guests.
Shaun becomes quite serious and excited about his writing, and wants to attend Stanford, to work under his author hero, Marcus Skinner. The movie is thus a workable story about young ambition, writing in particular. Shaun runs up against the superficial, celebrity-driven world of Southern California. He "suspects his English teacher Mr. Burker [played by Mike White, the writer of Orange County] is actually illiterate:"
Mr. Burke: Now, when I say "Romeo and Juliet," who comes to mind?
Dana: Claire Danes?
Mr. Burke: That's right, Claire Danes. Who else?
Chad: Leonardo DiCaprio.
Mr. Burke: Right. Who else? Well, you know someone else was involved in that movie who in some ways is as famous as Leonardo Di Caprio. And his name is William Shakespeare. And some great movies have been made based on his plays: Hamlet, West Side Story, The Talented Mr. Ripley, Waterworld, Gladiator, Chocolat…
I also enjoy the depiction of the vast riches of some. Shaun's father, played by John Lithgow, is a real estate magnate of such wealth he can afford the building of a new university admissions building without batting an eye. The splendor of his oceanside villa is worthy of any aspiring network marketer's vision board collage.
Finally, and notably, the soundtrack crisply accentuates the storyline.
Light and clearly moving, Orange County will not disappoint.
This post has been read 1184 times!