Interlode: "Not like the others…"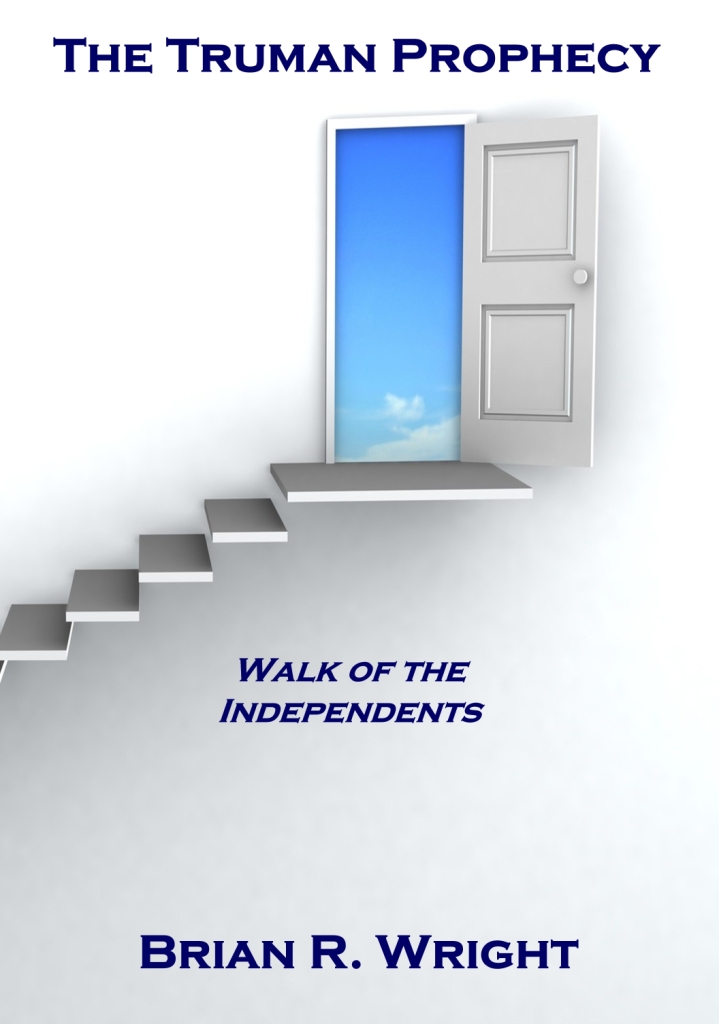 Editor's note: Drawn from finishing touches of my novel, The Truman Prophecy. The review edition of the book will be available here on Amazon—you may also click on the book image right—on or after March 28, 2016. Interlodes are illustrative vignettes of connective tissue to move the plot forward. —bw
As for the previous year, the fantasy football league (FFL) started in the late 1980s under auspices of ACME Geeks, Unlimited, held its 2015 draft in the man cave of one Eddie Falkowski, team name the Falcon Eddies (after the world's scariest TV villain in Rich Man, Poor Man).
Chance had fallen in with the ACME league years ago, and stayed thru thick and thin, near and far, finally keeping settling on his team name Freedom Riders. In FFL practice and vernacular, team owners are known by their team name or nickname. Eddie was Falcon, Chance, Freedom. ACME was an eight-team league, notable other team names/owners as follows:
Raging Fluffy Bunny           Bunny
Funky Chunky Monkey      Monkey
Pagan Mutant Aggressor    Pagan
Bill Dozers                          Dozer
Let's look in, shall we:
Beer and chips all around, the table set up, several bringing laptops or tablets to do their drafting via the WiFi access. [An FFL draft is similar to the NFL draft, only the draft pool consists of the entire league of skilled players and team defenses. Each FFL team, in succession, drafts one 'player' per round for 18 rounds. Each player drafted is exclusive to the team drafting him.]
"Hey, what time is it? Weren't we supposed to get started at 7?" said the Commish, owner of the HellMutts. Mutts usually reach the playoffs and have the most league championships by far. So the other guys figured, he's going to take the money, might as well make him commissioner to earn it.
"He called me and said he may have to stick around close to 7 at his new part time job," claimed Bunny. "He's less than half an hour away. We can probably do the first round, anyway, he's going to pick Tom Brady, QB, Patriots."
"Naw, that's all right, we can wait 15 minutes," Falcon said. "So what's the word on Freedom these days, I heard his mom died a couple of years ago. Sad. What's the new job?"
"Well, I haven't kept up the way I want; we used to hook up for quality brews every other month," Bunny said. "But I hear he's working 10 hours a week as a medical technician/driver, over here in Novi."
"Good, keeps him off the streets," Dozer said.
"And maybe he'll cut down on the Che Guevara Viva la Revolución! diatribes from that Coffee Coaster site he has," Falcon ventured.
"I hear you," said Commish. "I swear every Sunday night I get his newsletter, Monday morning a black GM Suburban is parked at the end of my driveway."
"Freedom often takes a clever tack on things," said Bunny. "He reminds me of that cartoon where the executioner, who's about to the chop off the head of the jester, says, 'You weren't like the others, you really made us think.'"
Monkey ventured, "Have you wondered if what he writes, is, like, true?"
"What's that got to do with anything!" said Dozer, Pagan, and Falcon.
Bunny suggested. "We should have a replacement if they take him away."
Freedom finally arrived and walked in, "Hey guys, Brady still available?"
This post has been read 960 times!