Tejano Hope __ 8/10
Note: Potential spoiler for those unfamiliar with events surrounding the star in 1995.
So why should we watch a movie about the "Madonna" of Mexican Americans? (Actually, I made up that comparison, but I'm pretty sure Selena has been compared to Madonna many times in the entertainment media.) Well, all the conventional reasons:
The movie features Jennifer Lopez in the title role, a definite career launcher
The movie speaks the universal language of music, a unique, buoyant style that doesn't make it into mainstream pop very often.
In these days of Cider House Rules Immigration Policy, the film reminds us that people of Hispanic ancestry, particularly Tejanos[1], (regardless of government paperwork) are people, too.
The movie starts with Selena's famous concert in the Houston Astrodome on February 26, 1995, where a record crowd of 61,000 young fans show up to listen and cheer.  She's at the top of her form with Spanish-speaking fans all through Mexico and Latin America and around the world, as well as Anglos everywhere, too; she grew up predominantly in English-speaking society as she was born in Lake Jackson, Texas in 1971 to Mexican-American citizens. The issue of perceived identity—between Mexican culture and American culture—is a constant throughout the movie and something Selena comes to flow between naturally… less so her father and mother, who definitely consider themselves part of the Anglo world.
Jennifer Lopez … Selena Quintanilla-Pérez
Rebecca Lee Meza … Young Selena
Jackie Guerra … Suzette Quintanilla
Constance Marie … Marcela Quintanilla
Alex Meneses … Sara (as Alexandra Meneses)
Jon Seda … Chris Perez
Edward James Olmos … Abraham Quintanilla
Jacob Vargas … Abie Quintanilla
Lupe Ontiveros … Yolanda Saldivar
Selena becomes the voice of a new generation of Tejanos, casting her own spell as a major contributor to the universal language.  The movie gives us a generous helping of the Selena songbook, and shows how it developed from her father Abraham's (Edward James Olmos) dreams when he was a young Dion and the Belmonts wannabe in Corpus Christi of the early '60s.  Olmos' role turns the story into a touching and enchanting family flick.
After giving us the Astrodome scene, followed by Abraham's group the Dinos being rejected by everyone, gringo and Hispanic, back in 1961, we are directed straight into the lives of the Quintanilla family. In 1981, Abraham, after detecting that young Selena (Rebecca Lee Meza) has an angelic voice, decides "to get the band back together."  Each of the three children, a boy and two girls, are given a role; the first song he has them sing is Blue Moon.  It's way too square for the 10-year-olds whose teeny bopper tastes run from the Eagles to Donna Summer—by the way, the opening scene in the Astrodome has Jennifer Lopez tantalizingly belting out (in English) three classics of hot-babe disco:
Gloria Gaynor: I Will Survive
Donna Summer: The Last Dance
Donna Summer: On The Radio
As Selena grows, her father arranges more gigs for her and through trial and error encourages her to learn to sing Spanish-language songs… because that's what sells. Very interesting, because when Abraham had the Dinos, he stubbornly clung to what was popular in the English-speaking pop charts and as a consequence was never accepted in the budding Tejano culture of the time.  He doesn't want Selena to repeat his mistake.  The following exchange captures the soulful beginning of the Selena phenomenon.
Selena: "But I don't want to sing in Spanish. I don't like Spanish music."
Abraham: "Do you like to sing in front of people?"
Selena: "Yeah, Dad, I love it.  It's like you can feel them when you sing."
Abraham: "It's a wonderful feeling. But let me tell you something I learned the hard way. When I was singing with Los Dinos, they started throwing beer bottles at me.  It sounds funny, but it scared me.  And I learned something.  You've got to be who you are.  You can't change it.
"You're an American.  You like Donna Summer.  I like doo-wop. But you're also Mexican, deep inside. That's a wonderful thing. You can't be anything if you don't know who you are. If you're a singer, you must sing to people from deep inside here [touches her heart], su corazon."
Soon we reach the point of Selena with her band becoming Latin pop music idols, and Jennifer Lopez takes up the acting and  singing duties. Some great location and  period settings render the "musical family on the road" show believable; she falls in love  with her lead guitarist Chris Perez played  strongly by Jon Seda.  By the late 1980s the unique Selena sound is established, and  the sound is good. To my Anglo ears: it's a very happy, syncopated music, delivered on stage with a lot of energetic dance movement. It moves people and lightens them up.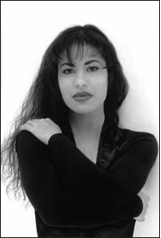 At this point I would have continued to discuss the tragic culmination to the Selena story, approximately a month after the Astrodome concert.  Almost everyone is aware Selena lost her life so sadly, so young, so for most of my readers I'm not giving anything away by talking about it here in connection with the movie. Still I don't want to discuss it in any detail because that would certainly give too much away of the movie itself. I do have some concerns about who else might have been ultimately behind the tragedy.
It's a family movie with a great moral.  The message of Selena is one of love, hope, happiness, and no matter who you are, tolerance. When it comes to the issue of geographical paper-pushing, of who has the right to be on this side of a state border or that one, Selena's life is a testimony on how to proceed. One day soon I'll have another column on immigration; 'til then, consider this dialog between Sheriff Sam Deeds (Chris Cooper) and Chucho Montoya (Tony Amendola) a businessman in a Mexican border town—from one of the best movies of all time, Lone Star:
Deeds: "You ever know a fellow named Eladio Cruz?"
Montoya: "You're the sheriff of Rio County, right?  Un jefe muy respectavo.  [Draws line in dirt.]  Step across this line.  Ay, que milagro!  You're not the sheriff of nothing anymore.  Just some tejano with a lot of questions I don't have to answer.  A bird flying south… you think he sees this line?  Rattlesnake, jabalina?  … Whatever you got.  You think halfway across that line they start thinking different?  Why should a man?"
Deeds: "Your government's always been pretty happy to have that line.  The question's just been where to draw it."
Montoya: "My government can go fuck itself, and so can yours.  I'm talking about people here.  Men.  [Long pause]  Mi amigo, Eladio Cruz is giving some friends of his a lift one day in the back of his camión.  But because they're on one side of this invisible line and not the other… they got to hide in the back como criminales.  And because over there he's just another Mex bracero, any man with a badge is his jefe."
And now you know the essence of the humanitarian libertarian position on immigration or making good neighbors in general: any individual who does not commit aggression has the right to plant his feet anywhere on earth without aggression being inflicted upon him. Selena, Lone Star, other works of art make the case for the sacred nonaggression principle more eloquently than words.
###
[1] Tejano (Spanish for "Texan"; archaic spelling texano) is a term used to identify individuals of Hispanic descent born and living in the U.S. state of Texas.
Save
Save
Save
This post has been read 1455 times!