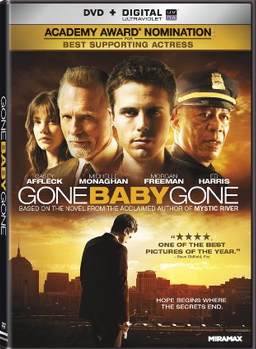 Gone Baby Gone (GBG) is based on a recent installment of Dennis Lehane's series of crime novels set in the grimy reality of South Boston. [Lehane also wrote Mystic River (2003), which became a movie netting an Oscar nomination for director Clint Eastwood and an Oscar victory for leading man, Sean Penn, and supporting actor Tim Robbins.]  GBG climbs right into the rather bleak yet homey apartment of Patrick Kenzie (Casey Affleck) and Angie Gennaro, who mix business with pleasure by doing freelance private investigations.
A child has disappeared, and her aunt Beatrice McCready (Amy Madigan) and uncle Lionel McCready (Titus Welliver) are unhappy with police progress on resolving the whereabouts. Feeling someone from the neighborhood will be more inclined to get answers, they make an earnest plea to our young, relatively inexperienced PI couple.  Patrick and Angie, being advised by the head of the Crimes against Children task force Jack Doyle (Morgan Freeman) to "work with us," proceed to check out the local haunts and blind pigs that the cops don't much know or care about.
And that whole process of experiencing, through Patrick and Angie's eyes, the local color of South Boston lends the film a unique "you are there" authenticity. These are the real people… and a lot of 'em are pretty sleazy and/or scary hombres and hombrettes—you want to keep one hand on your wallet and the other ready to reach for your .38.  Helene McCready (Amy Ryan), the mother of the missing kid, is a mean little drug-abusing slut; while expressing obligatory faux grief while the news cameras are rolling, she really isn't motherhood material.
Casey Affleck … Patrick Kenzie
Michelle Monaghan … Angie Gennaro
Morgan Freeman … Jack Doyle
Ed Harris … Detective Remy Bressant
John Ashton … Nick Poole
Amy Ryan … Helene McCready
Amy Madigan … Beatrice McCready
Titus Welliver … Lionel McCready
Director Ben Affleck and his brother Casey, having grown up on these mean streets, are obviously prosecuting this movie as a labor of love.  Just as in Good Will Hunting and The Departed, you're immersed into this generally poor Irish-Catholic culture, with its combination of anti-intellectualism, artistic charm, and blind ruthlessness.  When these people bear a grudge they really bear a grudge.  Sam Peckinpah's movie Straw Dogs, though set in Ireland, also comes to mind.  What GBG adds to the genre is basically an extremely well-written mystery that doesn't trick you but will probably surprise you, combined with great characterization —particularly in the performance of Casey Affleck.
An interesting complication of the plot is the entry of the two cops with whom Patrick and Angie are supposed to work: Detective Remy Bressant (Ed Harris) and Nick Poole (John Ashton). Particularly the Ed Harris character, as one might imagine, introduces a whole new range of plot possibilities.  Terrific performances all around, and I'm guessing there'll be some Academy Award interest in this late-season flick.
So not giving anything away.
Talk about atmosphere!  Like Mystic River, the music has a quiet eeriness and many of the scenes fit with an aura of mourning—this feeling of sadness for the loss of hope.  Although one picks up on the pride of community here in South Boston, one also senses a perversity in these sentiments of identity, as if the residents are reveling in being losers. Not that they're all losers, of course—Patrick and Angie show signs of wanting to get ahead, make something of themselves.  But lot of viewers will ask what the heck are they doing in this awful place, which seems to consist of one scummy bar of hopeless degenerates after another.
Yet that's just it, author Lehane and screenplay writer/director Affleck are showing us their own conflicted love for this unique piece of the planet… sleaze and all.  There isn't any sugar coating.  Out on the fringes of this Irish-Catholic enclave, other ethnic groups are making do, too… and they're as crime and drug-riddled as these dregs of South Boston.  A black leader of the pack, one of Patrick's gang in high school, is especially vicious; he's also instrumental to what's going on with the poor disappearing youngster.  The scenes with Patrick trying to talk turkey with this spaced-out psychopath—not to mention his attempts to learn things from his white spaced-out psychopath acquaintances in the old neighborhood—possibly forebodes a whole new genre of private eye fiction.
The Casey Affleck character conveys a raw toughness and a moral confidence we remember from Humphrey Bogart in the Sam Spade series, and others (Affleck's qualities are also similar to what I remember of Frank Sinatra's character in The Detective). Beneath Kenzie's small frame and smooth banter beats the uncompromising heart of justice, and his fiance/girlfriend means more to him, and to their common enterprise, than pleasant Girl Friday eye candy.  She shares his sense of right and wrong and loves him for it even when she disagrees about which is which.
I'm curious what the critics and awards personnel will decide about this latest celebrated dip into the river of film noir.  Rotten Tomatoes is > 90% for both critics and users (only slightly higher than the numbers for Mystic River), which I'm told by my significant other is extremely high.  My own critical background in books and movies makes me inclined toward the romantic comedy/adventure/ ideological flicks… preferably with happy endings.  Ayn Rand used to refer to the concept of "emotional fuel:" art should serve a purpose of reinforcing or encouraging our own pursuit of worthy goals; and those sentiments surely affect me.
[Whether GBG has a happy ending is a matter of conjecture, but I can safely say you won't leave the theater hugging the people walking next to you or whistling "Always look on the bright side of life."]
Thus, overall, I have to admit GBG is like listening to a world class orchestra perform Igor Stravinsky's "The Rite of Spring" or, say, a Charles Ives' symphony.  I admire the artistry and find it intellectually interesting and even emotionally appealing on some level.  As nice as it is for a diversion, it doesn't provide much in the way of emotional fuel; otherwise I'd give it a 9.
Save
This post has been read 899 times!