Remake of a lightweight (or is it heavyweight?) charmer 7/10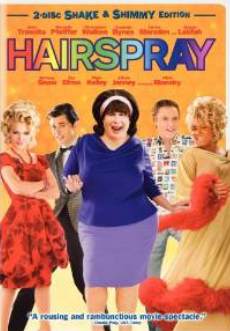 Probably very few Academy Awards will be in the offing for this remake of a rather obscure movie on which was based a more widely appreciated musical stage play.  Though John Travolta playing a cross-gender Edna Turnblad may be worth a special category.
Some movie critics may comment on the formulaic nature of this 60s throwback.  What was the movie that John Travolta starred in with that Australian hotty, Olivia Newton-John? Grease, I guess.  I don't remember what era that one went back to, probably the 1950s, because I don't think there was any sex or black people.
On the other hand, Hairspray makes quite a deal out of the racial integration issue and learning to accept people as they are, especially people who are considered "rrroomy."  Edna Turnblad, being played by John Travolta with fluffy accouterments, is gargantuan while Edna's daughter Tracy (Nikki Blonsky) may be considered dangerously short for her weight.
Nikki Blonsky … Tracy Turnblad
John Travolta … Edna Turnblad
Michelle Pfeiffer … Velma Von Tussle
Christopher Walken … Wilbur Turnblad
Amanda Bynes … Penny Pingleton
James Marsden … Corny Collins
Queen Latifah … Motormouth Maybelle
Brittany Snow … Amber Von Tussle
Zac Efron … Link Larkin
Elijah Kelley … Seaweed
But Tracy is definitely cherubic and moves well on the dance floor.  She can belt out a song, too.  It's a very entertaining microcosm of the world before "the music died" back in 1962.  People were full of hope for peace and positive change, while they struggled to make ends meet.  Or if you were a young teen, struggled to make some kind of sense out of all these hormones pulling you this way and that.
Nikki Blonsky brings a lovable cheerfulness to the whole enterprise, which seems to infuse the entire cast.  Only the total Scrooges among us can fail to like this movie.
Formulaic?  What movie doesn't conform to some sort of structure that's been used before?  I think what matters is whether the spirit is fresh, whether you can truly identify with the characters, and whether the movie has a sense of humor. I say 9, 8, 9 in those categories—I guess I still only give the movie an 8 because it just feels a little too contrived. I enjoyed it more than Dreamgirls primarily because in that movie Jennifer Hudson was too loud for me most of the time.
But as if to emphasize the highly individualistic humor, Tracy's father Wilbur (Christopher Walken) runs a gag store, called the Hardy-Har-Har.  There are several moments of hilarity, including simply seeing John Travolta play Edna, the machinations of Wilma von Tussle (Michelle Pfeiffer) who will do anything to have her daughter win the dance prize, and the satirical oddity of having a "Negro Day" on this local white middle class TV dance show.
Many of you will recognize John Waters the writer of the 1988 movie screenplay—which according to the critics I've read had a little more bite—; he has a cameo in this 2007 movie playing a flasher.  He's a bit of a character actor and a bit of a character, it would appear, if you go through his portfolio on IMDb.  Rikki Lake, who launched her career from the 1988 film, and Pia Zadora also have cameos.
The story is about Tracy's desire to be on the dance show, The Corny Collins Show, as one of the lead dancers.  While she's at it she wants to connect with the most popular boy of the school, Link Larkin (Zac Efron), who she's had a crush on like forever.  Her knockout girlfriend Penny Pingleton (Amanda Bynes) also has ambitions but not as singleminded; in fact Penny's ultrareligious mother has been trying to keep Penny from thinking at all about all things sexual.  So, naturally, Penny experiences an almost instantaneous romantic and very sexual attraction toward the leader, Seaweed (Elijah Kelley), of the "Negroes" who dance on Negro Day at the show.  To my mind the movie treads fairly lightly with the racial-mixing idea, but Penny and Seaweed do wind up having a full-frontal kiss that you wouldn't have seen in too many movies back in the day.
The movie is good in all the areas of controversy, better when it weaves in the singing and the dancing, and at its nostalgic best when it becomes a simple coming of age in the 60s flick.  I enjoyed all the numbers, especially from Queen Latifah (Maybelle, the woman who runs a record store in a black neighborhood of Baltimore).
There really aren't any negatives, only the observation that this movie, too, is an idealization.  The realities were and are a bit different.  For instance, I feel a little bit of PC coming down the road when I see obesity and race lumped into the same category of "things we shouldn't form any judgment about." We should move away from "judgmentalism" for any characteristic, but we should think about obesity as a health problem, even a public health problem, without being condemned as anti-fat-person bigots.
Save
This post has been read 929 times!