There is a viable third choice, and it is on the ballot in every one of the 50 States
by Thomas Greco [excerpted from Beyond Money column here]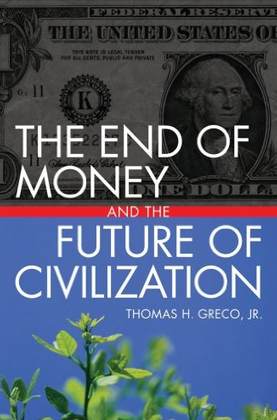 …The US has been on the road to fascism for a long time. Both Democrats and Republicans have for decades been advancing the same agenda of ceding power to transnational mega-corporations and the global banking cartel. So called "free trade" agreements are simply ways of allowing capital to more freely exploit labor and the environment and forcing governments to guarantee their profits.
Changes in financial regulations, like the repeal of Glass-Steagall under Bill Clinton in 1999, have enabled banking companies to grow to monstrous size ("too big to fail") and to more easily cheat the clients they are supposed to serve. In this article, James Rickards places the blame for the 2008 financial crisis squarely where it belongs and demolishes the arguments of the big bank apologists: http://www.usnews.com/opinion/blogs/economic-intelligence/2012/08/27/repeal-of-glass-steagall-caused-the-financial-crisis.
Many countries are caught in the debt trap and are being forced to sell off government owned assets which further concentrates wealth and control of "the commons." Those who control the creation and allocation of money are able to control politics, economics and virtually everything else.
When political and financial pressures prove inadequate, the US military is used to bludgeon countries into line with the global financial regime which is the most anti-democratic force in the world today. General Wesley Clark, former Supreme Allied Commander of NATO, testifies in this 2-minute video that the US planned to overthrow seven countries after 9/11: Iraq, Syria, Lebanon, Libya, Somalia, Sudan, and Iran. A thorough account of General Clark's story is told by Glenn Greenwald here: http://www.salon.com/2011/11/26/wes_clark_and_the_neocon_dream/.
Under Bush, Cheney and Rumsfeld, the Pentagon came up with a new organization–the "Proactive, Preemptive Operations Group (P2OG) to carry out secret missions designed to "stimulate reactions" among terrorist groups, provoking them into committing violent acts which would then expose them to "counterattack" by U.S. forces. Those "violent acts" would also be used to justify regime change in countries accused of harboring the terrorists. This article from 2002 clearly described the causes of the mayhem we have seen unfold in the years since then: http://www.counterpunch.org/2002/11/01/rummy-s-plan-to-provoke-terrorist-attacks/. A little research will make it clear that the US and NATO are responsible for the turmoil in Syria and the consequent refugee crisis.
Hillary is clearly in the pocket of the banking/corporate elite and will continue to promote their agenda, just as Obama has. We were sold on Obama with promises of change and the feel-good idea of electing the first black President. Hillary is being sold to us as the non-Trump candidate together with the feel-good idea of electing the first woman President. I'm all for making the oval office accessible to minorities and women but what we have gotten is a lot of broken promises, a continuation of the Clinton-Bush policies, and an escalation of US interventions in other countries and a rekindling of the cold war against Russia.
Trump appeals to people's fears and outrage over being misled by both parties. He promises what he cannot possibly deliver, while pandering to the religious right with his selection of a running mate whose policy positions seem diametrically opposed to much of what Trump says he is for. That makes his promises as unbelievable as Hillary's and leads me to wonder if he has even a glimmer of understanding of the geo-political facts of life. I can only conclude that he is a megalomaniac to whom winning is everything.
So, what can we do to stop this madness?
We can continue to bide our time, watch the chaos unfold and hope for the best while waiting for new opportunities to emerge, and working to make our communities better and more resilient in spite of it all.
But maybe we already have an opportunity to make a change at the level of national politics. There is a viable third choice, and it is on the ballot in every one of the 50 States. It is the Libertarian Party ticket of Gary Johnson and Bill Weld. Johnson is a former businessman and Republican governor of New Mexico, and Weld is a former Republican governor of Massachusetts, US Attorney, and head of the Department of Justice Criminal Division. In this short twitter video they make a strong pitch for their progressive social and anti-war agenda. https://mobile.twitter.com/GovGaryJohnson/status/748320273754165249/video/1. It sounds good to me.
This ticket should have broad appeal, especially among Sanders supporters who cannot bring themselves to vote for Hillary and Republicans who cannot bring themselves to vote for Trump. With the Republican Party in disarray and Hillary's vast unpopularity among voters, this may be the year when a third party candidate can win the White House and upset the pattern of politics as usual.
With virtually no advertising, a recent CNN poll shows Johnson already with 13% support (and the Green Party candidate Jill Stein at 5%), and a CBS/New York Times poll had Johnson at 12 percent. According to the Libertarian Republic, "If Johnson, former governor of New Mexico, polls at least 15 percent in five national public opinion polls before the first presidential debate, he'll be eligible to appear on the stage with the Democratic and Republican nominees."
If Libertarians, Greens and all the rest of us who are dissatisfied with the state of politics in America can get behind the Johnson/Weld ticket, we can have the much needed Second American Revolution before this year is out.
Are we the people ready to govern ourselves? The power elite think not; let's show them that we are.
[Full column from Beyond Money, here.]
Save
Save
This post has been read 937 times!