A moving testimony to true sports' courage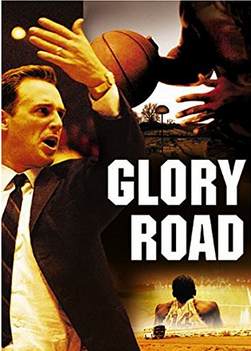 Directed by James Gartner
Selected Cast
Josh Lucas : Coach Don Haskins
Jon Voight: Kentucky Coach Adolph Rupp
Derek Luke : Bobby Jo Hill

Glory Road is the inspirational story of Don Haskins, a winning high-school girls basketball coach who was hired to lead the NCAA Division 1 men's basketball program at Texas Western University (TWC) in El Paso.  Haskins… and his special team.
When Haskins takes the reins in 1962, the South's collegiate sports programs are de jure racially integrated.  But unwritten rules persist that minimize recruitment and play of black players. De facto, most teams only play and recruit white players.
TWC's basketball program is weak, and none of the better white high school players wants to come to the remote moonscape of El Paso. So Haskins entices leading black prospects from schools and playgrounds of the north by offering scholarships and a way out of their harsh realms.
The athletic director and boosters are initially upset with so blatant a violation of their unwritten rules, but they change their minds when the Texas Western Miners proceed to win. 
The movie works well as a sports story—it reminds me of the movie Miracle (I thought Kurt Russell deserved an Academy Award nomination for that one!)—but its political statement is what's most important.
You see the prejudice in those days and in the South dying hard.  The 60s were a period of social upheaval, and a lot of ignorant rednecks did not appreciate being "upheaved."  The story shows several instances of intimidation, humiliation, and physical coercion inflicted on the players.
Over a period of years, Haskins builds his team into a powerhouse, to the point in 1966 they reach the finals of the NCAA tournament—the pinnacle of college basketball.  Kentucky is the opponent, coached by the legendary Adolph Rupp (played brilliantly in a short role by Jon Voight).
Rupp disdains this upstart operation from nowhere, and seems highly conceited with his all-white program—future NBA championship coach, Pat Riley, is on the Kentucky team that year.  Haskins decides to confront the racial issue directly by playing only his black players. Needless to say, in a dramatic game…. Sports changes forever. After that, virtually every sports program in the South opened up and became truly integrated.
The extras in this DVD are especially worth viewing.  Straight from the players who were on that team you hear what it was like to be on the front lines of the civil rights movement.
You would think after such a spectacular achievement, the small-minded bastards down there would realize their errors and show some contrition. Au contraire. The hate mail increased for the next season and for a year or two afterward until the social context generally changed toward equality.
Go figure. But the movie is fine tribute and well done.  Inspirational.  It was the beginning of the end of racial repression in college and professional athletics.
Save
Save
This post has been read 832 times!