"My epic trek from tip to tip of the Americas" (1977-1983), Author's Edition
by George Meegan, Free Man Publishing Company, 2015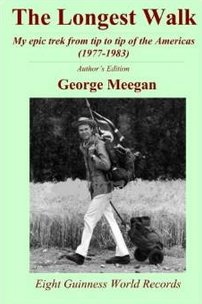 Sure there's a lot of background to the ultimate edition of a sleeper book that I expect will fire the popular imagination of large numbers of youth of the world who still read… in no time at all. George Meegan is a one-of-a-kinder, who grew up from nothing in jolly ol' England, dreamed of being an adventurer, dropped out of school to join the British merchant marine, then decided one day he would walk the Americas from South to North. And did.
This account doesn't have any counterpart in the literature of the ages: it's at once a journal and also an ever-morphing flow of humanity through the window of an intrepid Englishman's eyes and shoes (twelve pair, 19,019 miles). It's an indescribable delight to join with this work as its final editor, to appreciate the original writing, of course, yet also the fine editing work performed by exceptionally caring individuals at Dodd, Mead, and Company before it succumbed to death by the conglomerates—here's the kicker, Dodd, Mead went belly up just as Longest Walk the First is about to go to press! Continue reading →