Rekindling the joy of learning
by George Meegan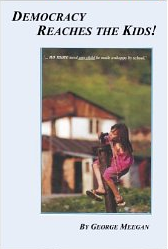 Democracy Reaches the Kids! is a tour de force, a blockbuster, and a game changer. It delivers a blow to the 'education industrial complex' from which it will not recover, and we are all the better for it. One of the higher density books of ideas-per-page you'll ever read. Meegan's pace is quick and energetic, a rich tapestry of facts from all over the world—pertaining to education, both how it has been and how it can be. Taking it all in is like reading Future Shock by Alvin Toffler, though Democracy! shines with genuine compassion and focus. Where Mr. Toffler tends to overwhelm the reader with technology ahead of its time, Mr. Meegan shows us how to liberate our souls and become humanely connected to one another through life-learning.
So who is this guy George Meegan, coming from out of the blue? Per Wikipedia:
George Meegan is a British long-distance walker best known for his unbroken walk of the entire Western Hemisphere from the southern tip of South America to the northernmost part of Alaska at Prudhoe Bay. This journey on foot was of 19,019 miles (30,608 km) in 2,425 days (1977-1983) and is documented in his book The Longest Walk (1988). He has appeared often in the press including the Today Show three times, CBS Morning News and on Larry King Live. Meegan lives Internationally and has a wife, Yoshiko, in Japan. They have two children. He ran as an Independent candidate for the Gillingham and Rainham constituency for the 2010 General Election.
Reading further in the Wiki article, which describes Democracy!, you'll see George's self-identified life mission since finishing the Longest Walk has been to preserve culture and language, what he saw so many of during that Herculean journey 35 years ago. The book sprang from notes George gathered during the thousands of miles he traversed and the hundreds of communities that he called home for days, weeks, sometimes months and years. Continue reading →