Grand strategy for Libertarians in an era of wanton federal crimes and terror
by Brian Wright
Reposting this review on the eve of my 2018 campaign for state representative in Michigan. The LP is the vehicle upon which I'm seeking the office, but my mission is more fundamental: establishing a system in Michigan for First Principles grand juries via legis-lative act. My brochure lies here: http://brianrwright.com/BW38th.pdf. The book reviewed is about how the LP became controlled opposition and must change its stripes entirely. A bit dated now thanks to my First Principles GJ route, but still worthwhile ideas for the LP.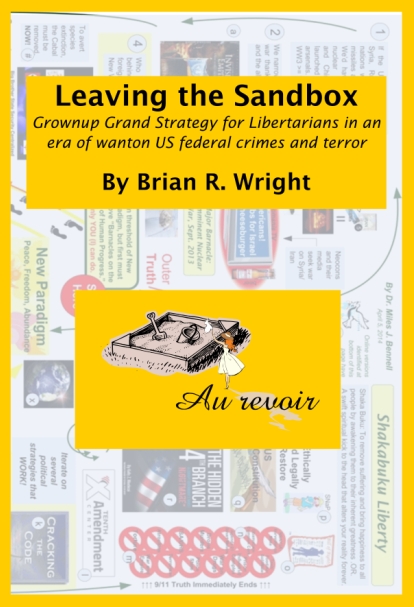 Reviewed by the author.
Only a large-scale popular movement toward decentralization and self-help can arrest the present tendency toward statism…
A really efficient totalitarian state would be one in which the all-powerful executive of political bosses and their army of managers control a population of slaves who do not have to be coerced, because they love their servitude. To make them love it is the task assigned, in present-day totalitarian states, to ministries of propaganda, newspaper editors and schoolteachers.
— Aldous Huxley
Leaving the Sandbox is my book on grand strategy for the Libertarian Party, in particular,  and for the liberty movement in general (in terms of what can be done sans party to bring about a free society).
From the Foreword
The motive force of the Old Paradigm—a political-economic Western Cabal with immense and concentrated state power and material resources—is desperately trying to hang on to its Old World privileges. The average American feels this in the onrushing accouterments of the federalized, militarized police state, where citizens have all the rights the Occupying Government tells us we can have. Continue reading →