Epic Western dances with magic __10/10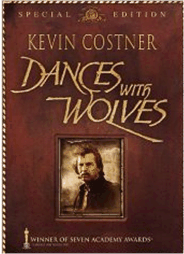 Ten Bears: Let us smoke a while.
John Dunbar: [voiceover] With Ten Bears, it was always more than a while. There was purpose in everything he did, and I knew he wanted me to stay. But I was sure of myself. I would be an excuse, and that's all the Army would need to find this place. I pushed him as far as I could to move the camp. But in the end, he only smiled and talked of simple pleasures. He reminded me that at his age, a good fire was better than anything. Ten Bears was an extraordinary man.
---
One for the books
Sometimes we forget how great some movies are. Dances with Wolves feels as if it were flickering on the big screens of America yesterday, not 25 years ago. It's been sitting on my DVD rack for a long time, and I figured would make a fitting viewing for a Labor Day evening. Captivating is a word that's been overused, as is magic, but the scale, natural beauty, and plot of this film transcend the extraordinary. It also received seven Oscars, including Best Picture and Best Director (Kevin Costner). That's big potatoes in anybody's book. Continue reading →