Epic showing evils of the modern state __ 8.5/10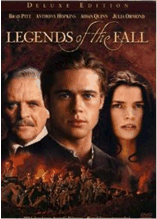 Colonel Ludlow: Indians! Indians were the issue in those days. I can assure you, gentlemen, there is nothing quite so grotesque as the meeting of a child with a bullet; or an entire village slaughtered while sleeping. That was the Government's resolution of that particular issue and I have seen nothing in its behavior since then that would persuade me that it has gained either in wisdom, common sense, or humanity.
The 1995 movie came shortly after Brad Pitt had already made his big move into stardom in Robert Redford's A River Runs Through It in 1992. Both movies are currently ranked on IMDb at a respectable 7.1. But I think without one or the other—because really they're the same sort of Pitt-character development epic—either would have ranked in the high 7s. Legends is the more explicitly anti-government, and graphically, believably so. That's why I like it slightly better.
Further, there is an American Indian background and foreground to the story that are refreshing to consider. Both the Indian relationships and the anti-state sentiments pertain mainly to the patriarch, Col. William Ludlow (Anthony Hopkins). Hopkins gives an excellent performance that provides gravitas for the lives of his three sons: Samuel (Henry Thomas), Alfred (Aidan Quinn), and Tristan (Brad Pitt). An underappreciated figure in the drama is One Stab (Gordon Tootoosis), who is a sort of Indian godfather to Tristan. Stab provides the narrative glue that follows Tristan's adventure from the beauty of Montana to the killing fields of WWI to the far seas and occasionally into the arms of the two beautiful women he loves.
So there's all the epic stuff. We're used to Brad Pitt being a major Hollywood stud and international celebrity, but the guy has paid his dues and learned his craft. He's a fine performer, especially in the emotionally charged scenes of happiness and loss. And that's perhaps one of my objections to the film: too many acts of loss, sometimes expected but often out of the blue—just when you figure everyone is going to live happily ever after. I mean, gee whiz, why do we have to let that person go? About the only plot justification is many of the losses are directly attributable to the wars against Indians, Europeans, and drugs.
That's another reason to love the film: it nails the immorality of drug prohibition laws. In the words of some commentator, to name the policy is to damn it. And Legends names it good. Corrupt lawmen, corrupt political figures, thoroughly vicious thugs in suits, collateral damage, women and children paying the ultimate price for sleazy, conniving men supposedly naively legislating morality. A sick bunch of total bastards. There are parallels to the American government policy of Indian slaughter… I'm sure the author didn't intend to pull any punches from the bald cinematic assertion that drug wars and Indian wars are identical policies of murder.
Then we have the BIG war, WWI. Pop Ludlow, because of his disdain for the "f###ing government," cannot—especially considering that he, his separated wife, and his extended Indian Stab family all have raised the three sons to respect life and reject any self-righteous, flag-waving coercive authority—comprehend why his one son, Samuel, feels a moral obligation to help England against Germany in the killing fields of Europe. The war comes up just after Samuel has brought his new bride-to-be, Susannah Fincannon (Julia Ormond) out to the ranch. In any case, the drums of war work astonishingly well with testosterone and male ego to overcome any remnants of a habit of reason.
And, heavens, just because Samuel feels he must go, why do Aidan and Tristan fall so easily into line. Tristan especially. In fact, this would be Tristan's great opportunity to hang back and get some bo-de-oh-doh from the lovely Susannah. (She's a modern 19-teens sort of young woman, and obviously a would-be sexual dynamo that Samuel is never going to be able to satisfy in his wildest dreams.) [Tristan is, well, Brad Pitt as, like, the Wolfman. He's a primal man who, frankly, doesn't get much in the way of hot-babe activity here in the middle of Picaresque Boonies, Montana.] But, no, everyone would see straight thru that scheme. Oddly enough, Tristan is a worldly smart dude, too, and could easily have applied the crystal clear and compelling reasoning contra stupid/evil war of his old man. But, noooo.
---
Good photography there on the war front. Horrifying. Also moving the Tristan character along, though occasionally my convictions falter that the motivations are realistic. Does Tristan truly feel that much affection for Samuel? Well, okay, I guess so. After their stints in the Army, Alfred returns to Montana wounded, yet committed to make something of himself. He has a total infatuation with Susannah, who remains there at the Ludlow ranch. Partly as a sublimation of that feeling, Alfred moves into the 'big city' of Helena and becomes politically active. Okay, he eventually becomes a bigwig, also to the chagrin of his blessedly anarchist dad.
Tristan goes a little nuts, like Rannulph Junuh in the Legend of Bagger Vance, he comes home for a while but has lost his will to live. Why? Well, let's just say that Samuel falls out of the romantic triangle. And then there is a ton of story that I don't need to be getting into. In many ways, standard epic business, except for the Indian matters, the anti-government sentiments, and the curse of the Volstead Act. As a period piece, Legends of the Fall is good with the costumes. [I felt The Legend of Bagger Vance, (like A River Runs Through It) also directed by Robert Redford, captured its time in costume and artifacts —Savannah, Georgia—better than any period movie I've seen.]
Good cinematography. Hard to be bad with such scenery.
And I did like the work of Julia Ormond in the film. She's really expected to be believable in so many romantic and living contexts that the acting presents major challenges. She does the job well. And her character, Susannah, is so sympathetic. Your heart goes out to her.
So good stuff, definitely worth renting and going back 15 years when Brad was just a regular guy without all the drama of Jennifer and Angelina, etc.
One Stab: Some people hear their own inner voices with great clearness and they live by what they hear. Such people become crazy, or they become legends.
This post has been read 5159 times!