The feeling of authenticity is astounding

by Elmore Leonard
2005, William Morrow Co., 312 pgs.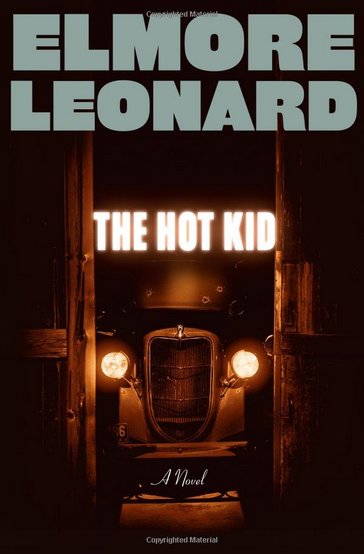 A lot of readers confess to a guilty secret for, say, liking a particular romance writer or mystery-suspense-crime novelist. Well, no guilt is required when the author you enjoy is Elmore Leonard.  Especially in this particular book, where the jacket states:

"The next time the members of the Swedish Academy think about giving the Nobel Prize for literature, they should take a look at Elmore Leonard." — Philadelphia Inquirer
Too true.
The Hot Kid is different from Leonard's other work in being a historical period piece—the action takes place in oil-boom eastern Oklahoma during the late Prohibition-era 1920s and into the Depression-era 1930s.
Carlos (Carl) Webster is born to a Spanish-American war hero and his Creek Indian wife in the sticks of Oklahoma, near Tulsa.  As a young teenager, he distinguishes himself innocently as an exceptional marksman with naturally high moral standards.
A local official notices the talent and recruits Carl into the federal marshals' service, where Carl rises to be one of the most respected lawman of the time.  He winds his way purposefully through several incidents in which justice prevails, also winding up with the girl of his dreams, Louly Brown.
Carl and Louly, as well as Carl's oil-millionaire, overalls-wearing, pecan-farming, war-hero dad, become targets of a bad hombre named Jack Belmont.  Jack, also born into an Oklahoma oil fortune, is a demon seed with a typically moronic-criminal approach to life, yet also a psychopath's cunning and menace.
Jack and Carl have crossed paths before when Carl busted him to save Jack from a Kansas City Pendergast-machine mobster.  The arrest leads to Jack being tried for outstanding crimes then jailed in McAlester State Penitentiary.  He vows to get even with Carl, and eventually escapes.
It's a fairly standard plot and denouement, but the ride is exciting and the characters humorously stark in their good, evil, and in-between ways.   Leonard manages better than any author I've read to characterize through simple dialog; it draws you in and keeps you turning pages.
Example:
Carl turned to see his old dad staring at him with a solemn expression.  "I'm kidding with you.  What Emmett did, he tried to bluff me….  But I kept my eyes on him, knowing he'd pick up his gun.  He came around with it and I shot him.
"As you told him you would," Virgil said  "Every one of the newspapers played it up, your saying, 'If I have to pull my weapon I shoot to kill.'  You tell 'em that?"
"The only one I told was Emmett," Carl said.  "It had to of been Crystal told the papers."
"Well, that little girl sure tooted your horn for you."
"All she had to.  It's the telling that did it, made you a famous lawman overnight.  You think you can carry a load like that?"
"Why not?"  Carl said, grinning at his dad, but starting to show himself. It didn't surprise his old dad. Virgil picked up his glass of bourbon and raised it to his boy, saying, "God help us show-offs."
There may still be a few readers of Carl Webster's generation around—he was born in 1906—and they will strongly identify with the setting Elmore Leonard so vividly evokes in The Hot Kid.
He skillfully weaves in references to famous bank robbers and gun molls, vintage cars, speakeasies, Will Rogers, Louis Armstrong, the Klan, the many product brands that were part of life in the day, etc.  The feeling of authenticity is astounding; I'm reminded of Tom Hanks movie Road to Perdition.
Multiple stars.
Save
This post has been read 1260 times!