---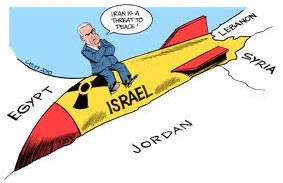 An excellent column sent my way via Gerhard Fuerst, occasional contributor to these pages. The alert liberals are usually on top of the threats to peace; I only wish more than a handful would come out and admit they were wrong about Obama. Not so much for voting for him in 2008, but for thinking he hasn't brutally betrayed every shred of support he showed for peace, civil liberties, and even a semblance of economic sanity. Again, due to the urgency of the message, this column is an excerpt without asking for direct approval from the author. He of course retains all rights to the piece.
It is estimated that up to a million people died as a function of George Bush Jr.'s decision to invade Iraq. According to Bush, that decision was made on the basis of "faulty intelligence." This is the ex-president's way of passing the blame. The decision was made by Mr. Bush's insistence that the accurate intelligence he was getting from traditional sources was false, and that the lies he was being told by other parties (for instance, Iraqi con-men such as Rafid al-Janabi) were true.
Now there is Iran. Over and again the intelligence community has told the powers that be that Iran is not engaged in a nuclear weapons program. And over and again the men and women in Congress and the White House have insisted that these traditional sources of information are wrong and that the stories that are coming from other sources (in this case the Israeli government and its special interest agents in Washington) know better. As in 2003, so it is in 2012. The politicians appear to be out for blood. One wonders how many dead and maimed bodies will satisfy them? Perhaps it will be a million dead Iranians.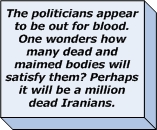 The only difference is that today, we have a president who is hesitant to go to war this very moment. As General Martin Dempsey, Chairman of the Joint Chiefs of Staff, has put it, the major difference between the U.S. and Israel on military action against Iran is timing. For President Obama, first comes the "diplomacy" of ultimatums combined with draconian sanctions, and then comes the slaughter. Perhaps it will come in his anticipated second term.
I have written about this more than once before and it is hard to find anything new to say. Yet, given the play of events, what has been said before warrants being said again. Therefore, below your will find a piece originally posted on the 10th of June 2011, but amended where necessary to bring it up to date.
Part I – Is there an Iranian Nuclear Weapons Program?
On Friday 3 June 2011 the investigative reporter Seymour Hersh gave an interview to Amy Goodman for the radio program Democracy Now! The topic was Iran and whether or not it is developing nuclear weapons. Hersh answered this question definitively for Goodman as he did shortly thereafter in a comprehensive piece for The New Yorker (6 June 2011 ) entitled "Iran and the Bomb: How Real is the Threat? His answer: there is no Iranian nuclear weapons program. There is no threat. This position has been confirmed by two National Intelligence Estimates (NIEs) on the question of Iran and nuclear weapons. These expressed the collective opinion of 16 U.S. intelligence agencies. Their unanimous conclusion has been that "there is no evidence of any weaponization."  This was reconfirmed in mid February 2012 by an array of top U.S. intelligence chiefs appearing before the Senate Intelligence Committee to give their annual report on "current and future worldwide threats" to national security.
Hersh set his understanding of the issue against the background of the 2003 invasion of Iraq. In that case there was no credible evidence for weapons of mass destruction yet we had high government officials going around talking about the next world war and mushroom clouds over American cities. Both the U.S. Congress and the general population bought into this warmongering. Hersh is obviously worried about a replay of that scenario. Thus, in his interview, he said "you could argue its 2003 all over again….There's just no serious evidence inside that Iran is actually doing anything to make nuclear weapons….So, the fact is…that we have a sanctions program that's designed to prevent the Iranians from building weapons they're not building."
In 2003 those kind of sanctions, applied to Iraq, along with the accompanying misinformation campaign, led to a tragic and unnecessary war. Are we now doing it all over again? As Amy Goodman pointed out, "the Obama White House…has repeatedly cited Iran's nuclear program as a threat to the world." President Obama asserted as much in a 22 May 2011 speech before AIPAC and again in his 4 March 2012 talk to the same organization.  On the latter occasion Obama told his audience, "I have said that when it comes to preventing Iran from obtaining a nuclear weapon, I will take no options off the table, and I mean what I say. That includes all elements of American power: a political effort aimed at isolating Iran….an economic effort that imposes crippling sanctions and, yes, a military effort to be prepared for any contingency." All this for something that is simply not happening.
If this is the case, what in the world was President Barack Obama talking about when addressing AIPAC? And what are the members of Congress talking about when they address this same issue? The vast majority of them take the same line not of President Obama, but of Israeli President Benjamin Netanyahu who thinks Obama is weak and naive and that their should be war against Iran now. In addition, this morbid fantasizing about Iran's nuclear ambitions has captured the attention of the mainstream press. Amy Goodman asked Hersh about a New York Times report (24 May 2011) stating "the world's global nuclear inspection agency [IAEA]…revealed for the first time…that it possesses evidence that Tehran has conducted work on a highly sophisticated nuclear triggering technology that experts said could be used for only one purpose: setting off a nuclear weapon." Hersh quickly pointed out the that the word "evidence" never appeared in the IAEA report and, it turns out, the type of nuclear trigger the New York Times was referring to is so fraught with technical problems that, according to Hersh, "there is no evidence that anybody in their right mind would want to use that kind of a trigger." So, what in the world is the New York Times telling us?
Part II – What is Real?
Questions One and Two: The questions about Iran's nuclear program are not open ended. They have real answers. First, is Iran developing nuclear energy? The answer to this is a definitive yes. No one, Iranian or otherwise, denies this. Their aim here is energy production and medical applications. This is all legal. Second, is it developing nuclear weapons? According to every reliable expert within the intelligence agencies of both the United States and Europe, the answer is no. These answers describe reality in relation to Iran and its nuclear activities.
Question Three: The really important question. Why do American politicians and military leaders refuse to accept reality as regards this issue? That too must have an answer. And intelligent people who investigate these matters should be able to figure it out. I consider myself in this crowd, and so I am going to venture forth with my answer.
Answer to question three: It is Politics. However, it is not just U.S. politics. Others have helped write the script. These others can be identified by asking to whom are American officials pledging to pursue the Iranian nuclear weapons fantasy? The president's pledge has gone to AIPAC and the Israelis. Members of Congress have done the same.
Part III –
Other People's Fantasies Become America's Fears
The entire column, posted March 9, 2012, may be found at To the Point Analyses: Deconstructing the News. We must as good American citizens resist this war, and then if it is launched anyway, massively nullify it at the state level and individually.
[1] 'Whack Jobs for War' is not part of Davidson's title.
This post has been read 3451 times!