Nice twist on the older man-younger woman tale (7/10)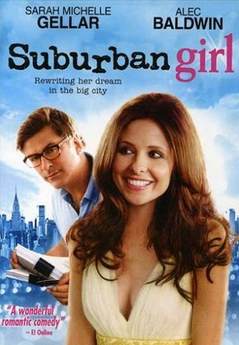 Chloe, as they enter the library for a book signing:
"Why are we here?"
Brett: "Because I'll never make full editor until I start mixing with the oligarchs… and he [pointing at Archie Knox] is one of them."
Archie, on learning her name: "Let me guess, your novelist father named you after Brett Ashley in the Sun Also Rises."
Brett: "My father's a doctor. But yes, I was named after that character.  My brother's named Ethan… after Ethan Frome."
Archie: "Well, as I always say, better to be named after a sensuous 1920s flapper than…"
Brett: "… than a tragic, desperate man with an ugly scar across his forehead."
Short Stories by Melissa Bank
Screenplay by Marc Klein
Directed by Marc Klein
Sarah Michelle Gellar … Brett Eisenberg
Alec Baldwin … Archie Knox
Maggie Grace … Chloe
James Naughton … Robert Eisenberg
Chris Carmack … Jed
Vanessa Branch … Faye Faulkner
Peter Scolari … Mickey Lamm
Marian Seldes … Margaret Paddleford
Ebon Moss-Bachrach … Ethan Eisenberg
Jill Eikenberry … Marlene Eisenberg
Simple enough opening to the New York City business environment, where a young girl from the New Jersey burbs comes to the Big Apple and lands an entry-level associate editing job with Gitlin and Stern, an important publisher.  The opening quotes I've listed above set up the plot and give the viewer some of the better dialog, which you can see is rife with (mostly) clever literary allusions.  [The references are not that obscure, since yours truly—I didn't even take English literature in high school—knows their identity but I'm afraid they will be other-worldly for much of the Sarah Michelle Gellar fan base (she's a good actress who became a teen celeb from Buffy the Vampire Slayer).]
Archie Knox (Alec Baldwin) is the editor-in-chief at Statharen Publishing and right from the gitgo Brett is attracted to him, basically making the first moves for professional reasons, then eventually—as she can see he's taken with her—falling for him romantically.  The mutual attraction becomes evident at their first encounter after the book signing.  They both have some roots in the world of great novels and novelists; Archie personally remembers Brett's great-aunt from his days in Madrid, Spain, about which he recounts an incident at Botin's, Hemingway's favorite restaurant.  Brett has elicited the Archie reminiscence with a marvelous quote:
"My Great Aunt Hilda once told me never take a job whose sole purpose is to make people feel imperfect."
Which is some advice for an editor, who's job is to root out imperfections or more positively, make a manuscript the best it can be.  But you know, I love this quote because it expresses how we should all find work that not only elevates ourselves, but sends positive vibes to the ones who work with us.  The sentiment also would seem to apply to personal relationships… and may even be good sense for the relationship between Brett and Archie.
Next day after the meet-cute, Brett's firm goes topsy-turvy, she gets a new boss, and everyone is worried about holding on to their jobs and generally placating some irrational people now running the show. We've all been there.  In Brett's case, this is yet another reason to confide in Archie, who is a legend, still a dominant, active novel editor, in the publishing milieu.  And from here we can let the viewer surmise the rest of the plot; it's a pleasant movie with good dialog, skillfully interwoven with fresh young music, and ultimately giving us some universals to think about.
Mainly what are the circumstances—especially the qualities of character—under which a May-December romance/relationship can work.  I found the literary stuff interesting, also the insider's view of what the process of editing is about from the publisher boardroom to the street level.  If this were a bigger movie, then I'd have wanted to see editing and lit material fill up the plot much more. But that would have made the movie something it did not intend to be; suffice that at the end of the movie there is some pointed yet subtle symbolism in Brett's changing a particular editing practice of hers.  Indeed, intelligence and subtlety—in how the film handles the struggle of work and relationships, the struggle of life—characterize this movie and elevate it above routine fare.  Alec Baldwin is great.
Trying to think of movies to compare Suburban Girl to, nothing comes to mind, except perhaps in Sex and the City when Carrie Bradshaw (Sarah Jessica Parker) falls in love with "the Russian" (Mikhail Baryshnikov)—the relationship, which is definitely serious, doesn't go the distance.  And that's the issue: you can think of innumerable instances of older men with younger women, when the younger women are basically sex kittens.  But when a real, honest-to-goodness love relationship is in the offing, not too many of those old guys with young chicks work out, do they?
Didn't watch the extras, but a good question is why the title?  The only thing I can think of is Brett is from a suburban New Jersey town where her family still lives.  Is the author trying to suggest she has suburban town values, or in this case simply healthy middle-class sensibilities.  Or is it like Life Guard, that making it in the dog-eat-dog world isn't worth the aggravation, and growing up consists of squaring one's ambition with doing what one truly loves… hence keeping the small town virtues in tact.  Dunno.  There's plenty to think about, and I'm sure the critics will be less than kind… because, well, there are so many of them whose job it is "to make people feel imperfect."
Good little movie with some outcomes that may not be as pleasing as one would wish, but nevertheless make sense.
###
[1] In an early onscreen aside stet is defined as "a proofreader's term indicating that a passage marked for omission is to remain as it was."
This post has been read 1552 times!