Football movie in the "guilty secret" category (7/10)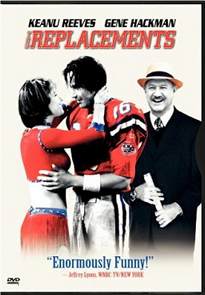 The football season approaches and I searched around for football movies that "make a difference."  The most notable high-impact, philosophy-of-life football movie made recently is probably Oliver Stone's gritty, dizzying Any Given Sunday (1999), starring Al Pacino, Jamie Foxx, Cameron Diaz, and Dennis Quaid.  Well worth seeing, especially for the unsubtle symbolism that the brutality of professional football is emblematic of the dog-eat-dog politics that give rise to it.
Going back further in time, no doubt the classic football movie of all time is the 1979 North Dallas Forty, probably Nick Nolte's finest hour.  What's particularly great about North Dallas is they give you the magnitude of the pain these players live with, both physical and mental, again in a similarly politically harsh world.
Other football movies on the lighter side, such as Michael Ritchie's Semi-Tough (1977) and a couple of other Burt Reynold's vehicles, Longest Yard I (1974) and Longest Yard II (2005), are supremely entertaining.  And who can forget Knute Rockne: All American (1940) where our greatest actor-president (or is it the other way around?) Ronald Reagan plays the immortal George "the Gipper" Gipp.  And I just thought of Jerry MaGuire the quintessential jock/chick flick.
I'm sure I'm missing some good ones.
But I can honestly say for me The Replacements with Keanu Reeves and Gene Hackman occupies a special status in the football-movie heavens.  I've watched it many times and have been thoroughly amused even inspired on each occasion.  So what's the appeal?  Probably that it's more escapist fun with a lot of very cool music, clever humor, and wicked choreography than you find in more realistic portrayals.
And it's well-written… with Gene Hackman as the coach!
When you've seen the movie as often as I have, you realize how ordinary a movie of this kind could be with ordinary writers and ordinary actors.  It was never highly promoted when it came out in 2000, and most moviegoers, myself included, thought it would only be a throwaway by big box office stars.  But Replacements has acquired something of a cult following; I keep seeing it on the Top 100 DVDs of NetFlix.
The plot is very loosely based on a real situation, namely the NFL players' strike that occurred briefly in the 1987 season, and uses several probably overworked plot conventions to keep the audience's interest.  But who cares?  Shane Falco (Keanu Reeves) was a college star quarterback at Ohio State who had a very bad post-season game to close out his amateur career; now he's cleaning barnacles off the boats of rich people in Chesapeake Bay.
The players union has struck.  The Washington Sentinels under ownership of Edward O'Neil (Jack Warden) along with several other teams decide to hire replacement players to keep their schedule until the strike ends.  O'Neil also seeks out a special replacement coach, Jimmy McGinty (Gene Hackman), who immediately insists on being given total decision power on the replacement players he signs.
McGinty proceeds to hire some genuine misfits from all over the planet.  They include a convenience store clerk Clifford Franklin (Orlando Jones), rapper brothers Andre and Jamal Jackson (Faizon Love and Michael Taliferro), former sumo wrestler Jumbo Fumkio (Ace Yonamine), a dissolute real-football player from Wales called "The Leg" (Rhys Ifans), a deaf player, a work-released convict, a SWAT cop, and so on.  The colorful cast make for several comical incidents, not to mention a continual stream of witty and amusing banter.
McGinty singlemindedly recruits Shane, whom he thinks was one of the true gifted arms of the era.  What Coach is doing is handing out second chances, the opportunity to achieve The Dream, if only for a few games.  As someone puts it later in the movie when the team is facing a feared opponent: for these guys "there really is no tomorrow."  And Coach McGinty fires them up—Hackman is brilliant as the fiery, utterly believable leader.
Well, McGinty is the ultimate leader, but Shane becomes the leader on the field.  He also acquires an actually quite charming romantic interest off the field, with Annabelle Farrell (Brooke Langton), who leads the Washington Sentinel cheerleaders—she finds cheerleader replacements mainly from local strip clubs.  The movie plays out in predictable fashion, yet with some memorable lines, e.g. "Pain heals, chicks dig scars, glory lasts forever," and, "It's been a privilege to lead you men on the field of battle." Then the following closing comments delivered in Gene Hackman's inimitable voice:
When the replacement players for the Washington Sentinels left the stadium that day, there was no ticker tape parade, no endorsement deals for sneakers or soda pop or breakfast cereal. Just a locker to clean out and a ride home to catch. But what they didn't know was their lives would be changed forever. Because they had been part of something great… and greatness, however brief, stays with a man. Every athlete dreams of a second chance; these men lived it.
So with the 2007 football season coming up and in the interests of keeping your fantasy football draft light and anxiety free, why not lighten up with a movie like this one.
Save
Save
This post has been read 1068 times!