FLOW (Fellowship for Liberation of Our World)
What I have in mind to get started [updated 20180812]
By Brian R. Wright
Note: I'm choosing to build this column as a description in stages. This column builds on the former one, which is the 1st Increment of the column here. The former column is kept solely as development reference; full FLOW description is the final stage — brw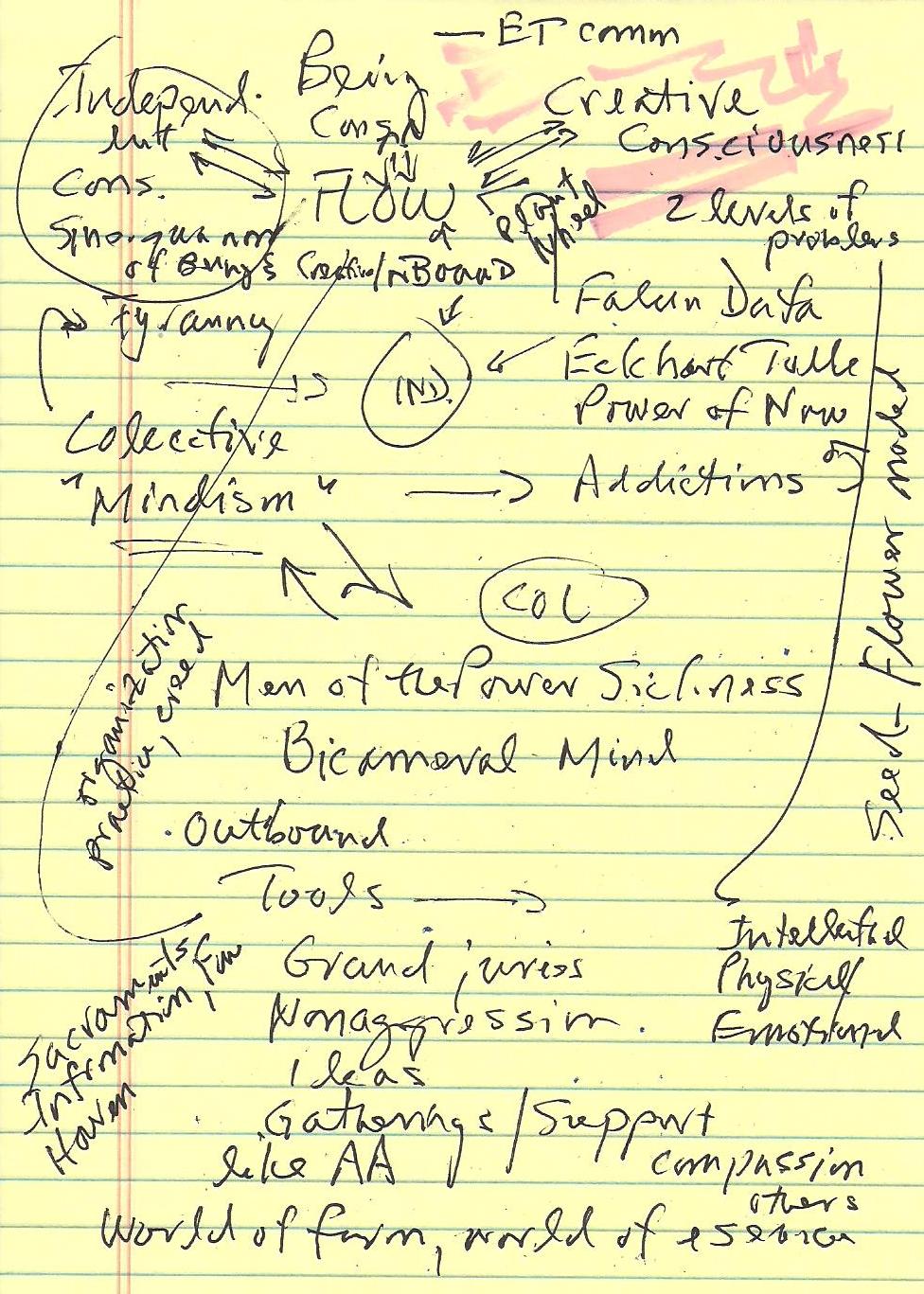 Some recent instructive face time with one of my more insistent muses has caused me to realize that I need to 'get on the stick,' as my peers would tell me in high school. I couldn't even answer her briefly as to what in fact FLOW was or is, much more why anyone would want to join up… or how she would benefit from it.
Recent dreams here, here, and here have provided some light along the path, then the reinvigoration of my Falun Dafa practice has supplied what heretofore had been missing for the breathing sacred being, i.e. you and me. I sketched what you see on the right in less than a couple of minutes while waiting to shower—it's the initial FLOW chart, 🙂 so to speak, everything is anticipated there, just not positioned exactly where it will turn out.
Yes, I am building FLOW as a faith or religion with the same features of any of the Abra-hamic ones: Judaism, Christianity, Islam—although sans 'God.' Akin to Buddhism, except supporting the apotheosis of each individual's independent consciousness and Being … in accordance with the laws of Nature and the sacred nonaggression principle. Also, like, say, Unitarianism, tho without any doors open for state-worship or altruistic-identity politics. Rational, spiritual, creative, and benevolent: Ayn Rand, Eckhart Tolle, Jon Rappoport, and Bagger Vance meet one another for a common purpose: our mutual spiritual well being.
A religion has two general aspects: doctrine and practice. I'll summarize each first, then expand with narrative to where I am now in the integration.
Twenty-Five Words: FLOW Doctrine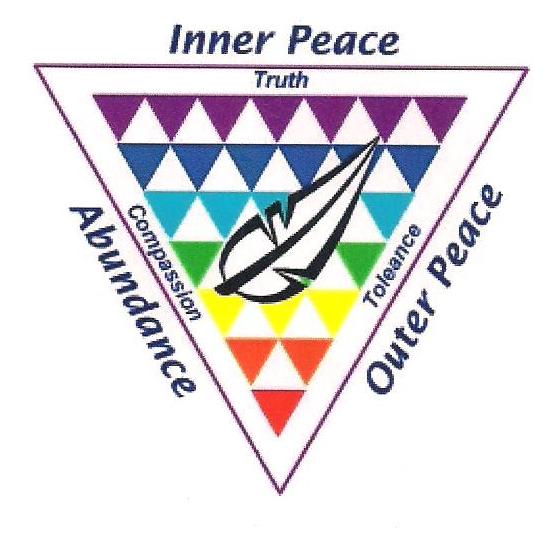 Just as flow in nature is enhanced by removing obstacles, FLOW leverages the cultivation practice of Falun Dafa to dispel barriers to independent conscious-ness, and fosters an individual's inner peace, outer peace, and creative abundance.
Falun Dafa, briefly explained here in a flyer I composed for its DVD, is the missing link I was looking for to breathe life into the FLOW system, make the FLOW idea and practice much more alive for people. [The ideas behind FLOW are vibrant, but they are, after all, mind constructs, which can become the tail of mental illusion wagging the dog of one's soulful reality… which is, after all, the general human affliction we're trying to reverse.]
Why Falun (wheel) Dafa (great law)? Because it's a very simple set of exercises that integrates a focus on justice for the individual in society. Truth, Tolerance, Compassion: these are the pillars Falun Dafa wants its adherents to cultivate. The meditative practice is from Chinese antiquity, and was founded in modern form by Mr. Li Hongzhi in China near the time of the democracy protests there. It acquired 10s of millions of followers, and, on account of these followers protesting general mistreatment by the government, it became the target of a horrific Chinese state persecution that continues to this day.[1]
Significant philosophical thinking with individualist political foundations complement the Falun Dafa spiritual entry-assist for FLOW, and will be outlined in planned documentation. Continue reading →