Israel and America: The Special Relationship that Isn't
By Dr. Alan Sabrosky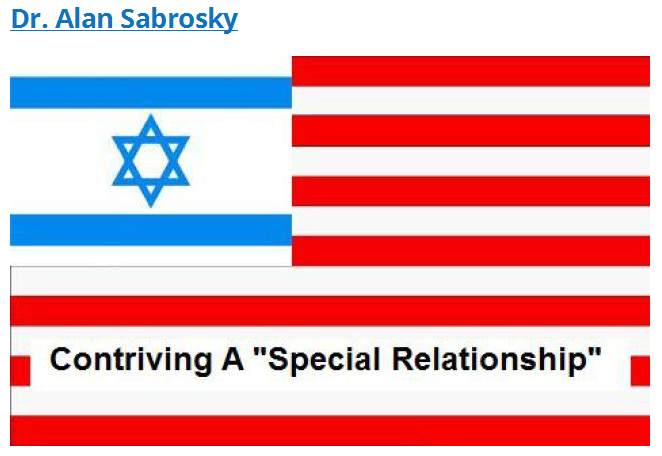 Dr. Sabrosky, a US Marine and former director of the US Army War College, is one of the foremost analysts I've found on the Web who starkly states his conviction, with key evidence, that top Israeli-Zionist officials were the prime movers and architects of the 9/11 attacks. The following excerpt from Sabrosky's 2013 column provides background over the past several decades of how Zionism and Israel became dominant political entities in—indeed, quasicolonial masters of—America… with very few Americans realizing it. — bw

Two outstanding, indispensable, and timely reference books on this subject:
Special Disclaimer Regarding 'Antisemitism'
Antisemitism has come to mean anti-Jewishness. It is important to note that neither Dr. Sabrosky (who has Jewish ancestors), nor I, nor any of the millions of individuals (many of them Jews) who question or deplore actions of the state of Israel or political Zionism, that led to Israel's creation, are anti-Jewish… any more than those of us who disapprove of the KKK are anti-Christian. — bw
Special Relationship
Whenever Israel's supporters today speak of a "special relationship" with the US that is supposedly graven in stone, it is useful to remember that something very different existed when Israel came into existence in 1948 on the gutted carcass of Palestine. The US recognized Israel, but that was about it. Hollywood was (and remains) largely a Jewish preserve, but their level of influence elsewhere—in the government, the media and academia—was limited.
Prominent American Jews felt no obligation to endorse Israel or Israeli leaders, no matter what happened. Dozens (including Albert Einstein) signed a letter published in the New York Times in 1948 protesting the arrival of Menachem Begin and condemning his actions. And the general American public was largely indifferent to what happened in the Middle East. Continue reading →