Quintessential (and timely) story of moral courage __ 10/10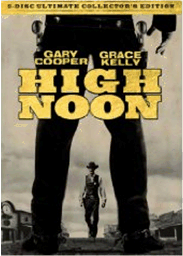 Helen (to Harvey): You're a good-looking
boy: you have big, broad shoulders. But he's a man. And it takes more than big, broad shoulders to make a man.
Helen: I don't understand you. No matter what you say. If Kane was my man, I'd never leave him like this. I'd get a gun. I'd fight.
Amy: Why don't you?
Helen: He is not my man. He's yours.
Helen: Kane will be a dead man in half an hour and nobody's going to do anything about it. And when he dies, this town dies too. I can feel it. I am all alone in the world. I have to make a living. So I'm going someplace else. That's all. Continue reading →